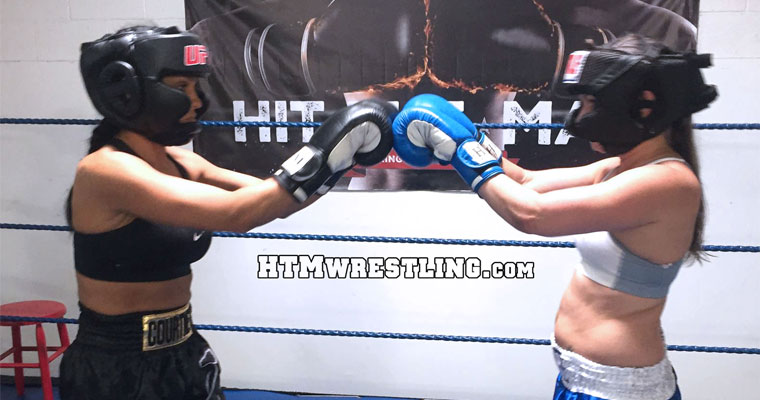 Courtney squares off with Devon D'amo for 4 rounds of competitive boxing in 10oz gloves, THREE minutes each. Courtney is a pro-fighter who has trained at top gyms in NYC, and was set to compete in the Golden Gloves. Devon D'amo is well known in the session fight business and had personal training under 4x World Champion Hotstuff Hollie Dunaway when in Atlanta.
In Round 1 Courtney and Devon both start off in headgear, but Devon decides to remove her headgear afterwards due to the heat. That may have been a big mistake! As the action intensifies, Devon is taking bigger and bigger shots, but unable to land much in return. The gap between the two fighters is clear, but Devon pushes on and does not give up, despite going down. In the 4th round however, Devon goes down again from a nasty combination and cannot make the 10-count.
In the post-fight interviews, both state they would be game for a rematch. Also included are slow motion replay highlights.
Real female boxing shot on July 14th, 2017. 1920x1080HD
Stats:
Courtney
5'3″ 117lbs
Age: 32
Devon
5'3″ 135lbs
Age: 36

This real female boxing spar features:

Mouthpieces/mouthguards, boxing headgear (until Devon removes hers), real boxing, trained female boxers, Courtney Wins, Devon defeated, Devon loses



Note that preview clips may have slightly offsynced audio


Tags: Courtney, Devon D'amo, Sparring

Please note! Prices listed here are BEFORE any applicable local taxes are applied.

---
Related Videos
---