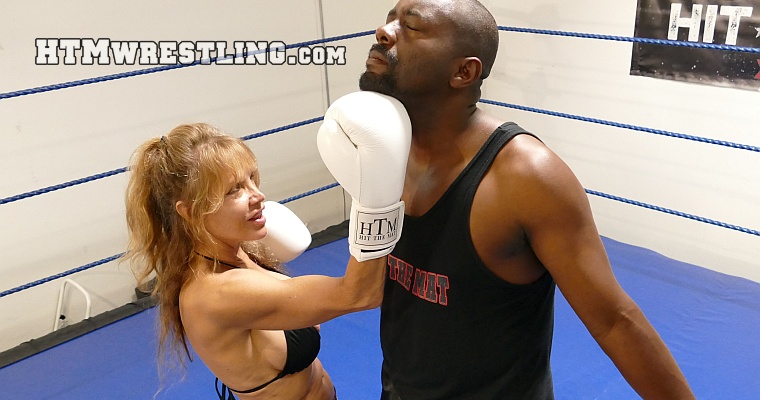 The long awaited rematch between Darrius and Christine Dupree! The match starts with Darrius talking trash, and Christine Dupree shuts him up nicely. Roll credits!

The actual match begins, and both fighters are trading sharp combinations. It's an infighting brawl, with both fighters staying close and banging away. Darrius must resort to clinching more than once to keep the skilled and energetic Dupree from overwhelming him. It's an explosive first round, and Christine Dupree seems to have the upper hand.

Round 2, Darrius begins to focus on Christine Dupree's well known punching bags! Lots and LOTS of topless breast and belly punching, and Darrius dominates the round.

Round 3, Since Darrius loves to focus on Christine's breasts so much, she gives him an up close and personal look with a breast smother clinch! Now it's Dupree's turn to dominate the dazed Darrius!

Round 4, The final round, Christine Dupree continues to dominate and toy with Darrius, not just beating him down but also smothering, facesitting and scissoring. And even punching him in the face WITH her boobs! Your official winner, Christine Dupree!

An alternate "dream" final round is included where Darrius defeats Christine Dupree. Literally, in your dreams, bud!

- Screenshot Gallery -




Note that preview clips may have slightly offsynced audio


Tags: Christine Dupree, Darrius

**View directly on CLIPS4SALE to use the Shopping Cart function!

Please note! Prices listed here are BEFORE any applicable local taxes are applied.

---
Related Videos
---