Choose your own ending! In this version, Blaten Lee defeats the current reigning topless boxing champion Chi Chi Medina for the foxy boxing title, with authority. The Champion hits the mat, repeatedly! Blaten Lee wipes the smug look right off of Chi Chi's face with BLISTERINGLY fast and intense hooks that nearly take the champs head off. Chi Chi tries to fight back, but is knocked down over and over by some of the most VICIOUS hooks we've seen as Blaten beats her down, until the Chi Chi can no longer get back up. Your winner and NEW foxy boxing champion, Blaten Lee! Now it's time to bound up the loser and beat her even more as a topless human punching bag!
See this video and many more on Clips4Sale, or
Note that preview clips may have slightly offsynced audio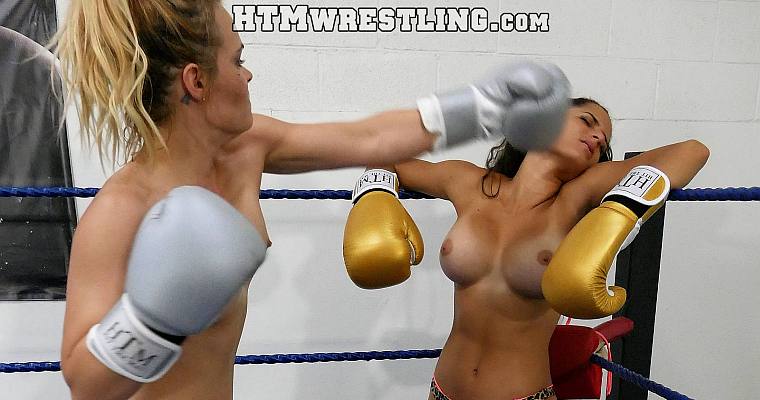 Editor's Note: Blaten was pounding Chi Chi's body (and breasts!) rather hard, so the original sounds were left as-is. Seems these ladies did not like each other!
-
Screenshot Gallery
This video went to #1 out of ALL clips on C4S and topped the charts in Female Boxing for weeks!

Main Fight available here: Chi Chi vs Blaten Lee – Main Event


REVIEWS/COMMENTS
Tony via e-mail

Congrats on the #1 clip. Very well deserved. This match is too hot for words, both chicks looked like they wanted to take each other's heads off. They are in amazing shape and their tight bodies took good punches. I hope there's a rematch.