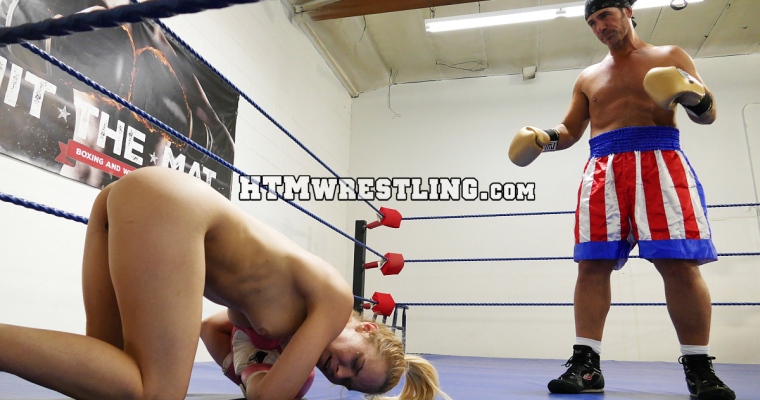 Bad Ass Blaten Lee is back and looking for a fight! Not believing the hype, she challenges Rusty to a boxing match. Strip rules! Blaten starts off cautious, but shows no fear, attempting to keep Rusty at bay. That begins to change though as Rusty finds the openings in her guard to land big shots, snapping her head and staggering Blaten in to the ropes. Round after round, Blaten Lee is worn down and must strip until she's completely naked. Some vicious hooks in the corner bounce her face off the turnbuckle, and some hard body shots have her on her knees, ass up on the ground. Woozy and staggering around the ring, unable to even keep her hands up, Blaten gets put away by a final big right hook for the knockout. Then Blaten Lee is blindfolded and tied to the heavy bag for some full nude boxing bondage punishment!
Maledom mixed boxing ryona. Strip boxing with Blaten Lee ending up fully nude!
- Screenshot Gallery -


This boxing video features: Strip boxing to full nudity (Naked Blaten Lee), mouthpieces / mouthguards / gumshields , woman defeated ryona knockout, full nude boxing bondage punishment for Blaten Lee, naked blonde MILF



Note that preview clips may have slightly offsynced audio


Tags: Blaten Lee, Maledom, Rusty, Topless

Please note! Prices listed here are BEFORE any applicable local taxes are applied.

---
Related Videos
---