Tomiko vs Duncan oil wrestling, all parts in one download! Tomiko travels all the way from Sin City, to challenge the oil wrestling champ Duncan. Duncan, unimpressed shows her the ring, and they both oil up and are trash talking each other. Right from the start Tomiko jumps on Duncan, and throws him to the mat. Using her quickness, she wraps her legs around Duncan's head putting him in a crushing scissors. Duncan makes an escape only to be put back into another neck scissor. Duncan slips around, putting her in a sleeper, trying to go for the quick knockout, only to get tossed off, and put him in body scissors, and arm bar. Tomiko, slides to his back and clamps a full nelson on his neck. Duncan uses his strength to power out, and reverses the hold on Tomiko. She tries to escape with limited success, they both slip and Tomiko capitalizes putting Duncan on his stomach, as she straddles his back and wrenches back his arms. She slides up and sits on the back of his head grinding his head into the oily mat. Tomiko rolls him onto his back to reveal she put him in a figure four headlock. Duncan is struggling to deal with Tomiko's strong legs around his neck. The bell saves Duncan from a certain tap out. Round 2, Tomiko starts with an early headlock, but Duncan slips out and put her in a camel clutch. Tomiko uses some dirty tactics to put her opponent back on the defensive. Tomiko, going tit for tat, works Duncan's back with a camel clutch. They go back and forth neither wanting to let the other gain the upper hand body splashes, fireman's carry, belly punches, bear hugs and other hold are done to each combatant as they try to win the round and the belt. Both manage to score a fall over the course of the fight, but when it looks like Tomiko has Duncan pinned for the win, she makes a grievous error and Duncan knocks her out with a single punch, claiming himself the winner.
See this video and many more on Clips4Sale, or
Note that preview clips may have slightly offsynced audio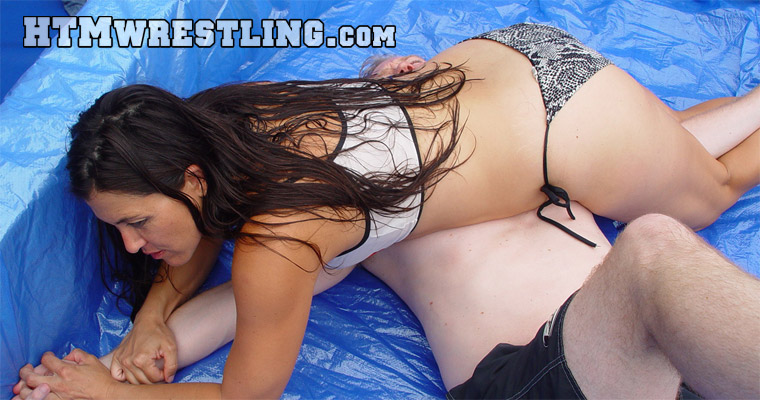 31 mins of mixed oil wrestling for $22.99! Shot in 2007
Tags:
Duncan
,
Oil Wrestling
,
Tomiko
**
View directly on CLIPS4SALE to use the Shopping Cart function!

Please note! Prices listed here are BEFORE any applicable local taxes are applied.
---
Related Videos
---