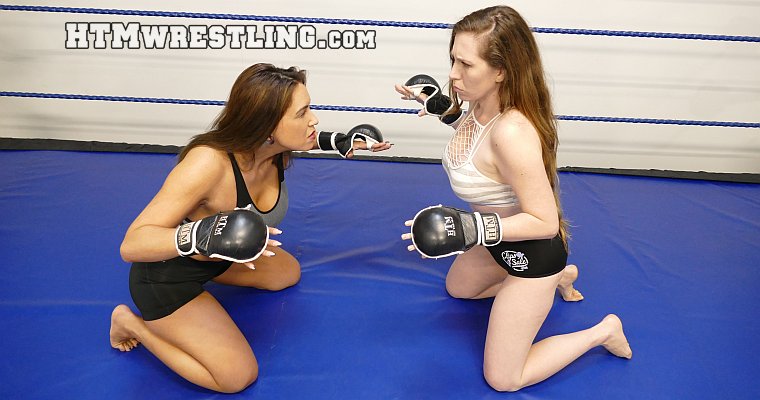 Megan Jones and Samantha Grace take to the mats for a quick WMMA fight in gloves. Starting out on their knees, Samantha manages to wrestle Megan to the ground and assert control, mounting her larger opponent and trapping her for a breast smother! Sam then transitions to sitting on Megan's face, muffling her screams. Sam makes the mistake of giving Megan a little too long to recover, and now Megan quickly puts Sam in to an RNC Sleeperhold. Sam kicks her legs to try and escape, but now finds herself with Megan's monstrously powerful thighs wrapped around her torso in a crushing body scissors.
After a few quick strikes, Sam is back in control with Megan now trapped in an RNC sleeper, with Megan on her knees. In a feat of massive strength, Megan flips Sam over her shoulder and breaks the hold! While Sam is dazed, Megan takes advantage with several body splashes, and booty drops to the belly. The back and forth battle continues as both ladies trade chokeholds, strikes, scissors, a few low blows, belly punches, and a final sleeperhold that knockout.
- Screenshot Gallery -


Your winner: … Samantha Grace! We see Sam's victory poses and pan over Megan's KO'd form. Fantasy female wrestling



Featuring: MMA Gloves, Belly Punching, WMMA Grappling, Sleeperholds, Scissors, RNC, Ground and Pound



Note that preview clips may have slightly offsynced audio


Tags: Megan Jones, MMA, Samantha Grace

Please note! Prices listed here are BEFORE any applicable local taxes are applied.

---
Related Videos
---