Carla and Frankie have a belly punching contest to see who's sexy stomach can take more punishment in a three round belly punching challenge. The girls take turns punching each other in their bare stomachs, one gets in a few shots, then it's the other girls turn. The trash talking flies as much as the fists between their sexy grunts of pain. Both of their flat sexy abs get pounded by the other girl's bare fists, until one finally submits for that round. The loser has some more punishment awaiting them for the next round! After 10 penalty punches for submitting, the next round of the contest gets underway with each girl taking turns mounting the other for 5 belly punches while the other girl is on their back, stretched out and vulnerable to punishment. In the final round, the girl must stand with her back against the wall as her opponent punches her stomach. The lovely ladies then go back and forth, taking turns pounding each other's abs over and over until finally one quits. The quitter then gets put in a sleeperhold and is left knocked out cold!
Image Galleries: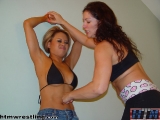 1 Photos
Contact hit_the_mat@yahoo.com to order

Preview Clips
| | |
| --- | --- |
| Other Purchase Options: | Note: these will take you to the Clips4Sale or Videos4Sale store! |
| Videos4Sale - Length: | Price: N/A + shipping |
| Clips4Sale - | Buy on Clips4Sale |
Note: Problems with Clips4Sale/Videos4Sale orders must be taken up with them! More info.