Boob Boxing Video Archive - Hit the Mat
---
2 Videos With Boob Boxing - Pages offer free video previews!
Sort by: Date (NEW) / (OLD) || Title (ASC) / (DESC) || Random || Grid View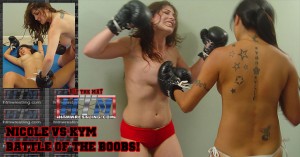 Topless boxing! Kymberly Jane is stripping out of her top in preparation of her match with Nicole Oring. Nicole comments on how Kymberly's tits are not as nice and perky as hers. Kymberly loves her tits, and thinks that her bigger real are better than Nicole's fake tits any day. Heated words lead the girls to glove up and go at each other, in this. Both girls knock each other around, but Nicole doing a little boob boxing seems to target Kymberly's tits early and often. Kymberly complains that Nicole is fighting dirty, but Nicole mocks her, and pounds more on Kymberly's boobs. Kymberly is able to comeback landing some hard punches to Nicole's face, body and, breasts! Both girls hit the canvas as the battle over the better breast takes a heavy toll. Who will win this boxing boob battle?

See this and more videos on Clips4Sale, or BUY NOW – $7.99. – - Preview Clip / Full Description
Tags: -Boob Boxing, Kymberly Jane, Nicole Oring, Topless
Length: 7 mins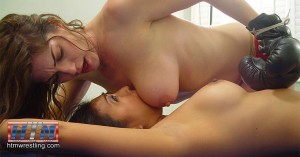 The boxing battle of fake tits vs real tits continues! Both girls are still lively and trading punches, their breasts bouncing with each hit. After knocking Kymberly down, Nicole starts dishing out some real breast punishment as she pounds away on Kym's tits. They continue to trade blows, but Nicole's focus on Kymberly's boobs has Kym aching and rubbing them as she gets knocked down. Then Nicole starts dishing out low blows, landing an uppercut between Kym's legs! Kym's had enough, and starts giving Nicole a taste of her own medicine. This match features tit punching, belly punching, a little cunt busting, as well as hot boxing action! Once Kym has Nicole down and really, she adds insult to injury with some major breast smothering! After beating Nicole down some more, Kym finishes her off with a big uppercut, and bounces as she dances around in victory proclaiming real boobs are better!


Tags: -Boob Boxing, Kymberly Jane, Nicole Oring, Topless
Length: 6 mins
Status:

See more Boob Boxing videos