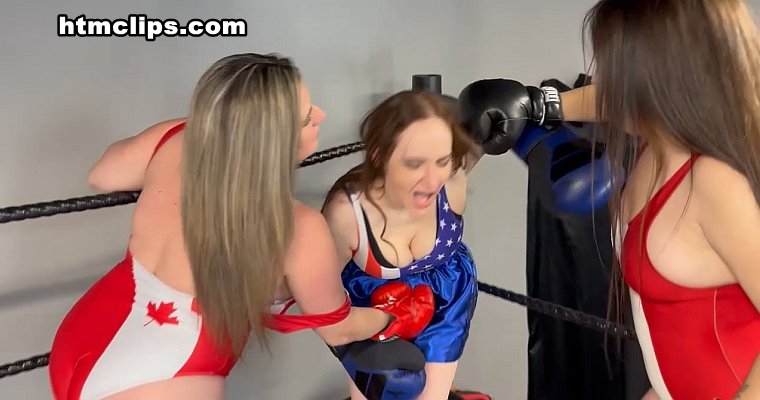 US vs Canada Boxing Catfight Chaos – Felicia vs Mutiny and Lily-Kat
Mutiny and Lily-Kat stole Felicia's HTM gloves! Maybe she shouldn't have talked them up as much, but that still doesn't give the Canadian ladies any right to take them. A 2 on 1 beatdown ensues with lots of belly punching, breast smothers, breast punching and low blows as Mutiny and Lily-Kat beat down Felicia (and Mutiny's still salty over the whole poutine thing). Lily keeps accidentally punching Mutiny as they're both a little too eager to get their hits in, and they almost knock each other out. (Also their tits fight to get out of their tops).
Felicia uses this chance to escape, and comes back wearing Lily's special "Iron Gloves"! Now it's payback time, with Felicia throwing bombs, knocking Mutiny and Lily around the ring without mercy. Mutiny even tries to team with Felicia, but it's far too late for any peace treaties. The brawl ends with Felicia yoinking ALL of the gloves, and Mutiny fighting with Lily in a bare knuckle brawl.

- Boxing Screenshot Gallery -


Fantasy female boxing



Note that preview clips may have slightly offsynced audio


Tags: Belly Punching, Felicia, Lily Kat, Mutiny, Topless

Please note! Prices listed here are BEFORE any applicable local taxes are applied.

---
Related Videos
---