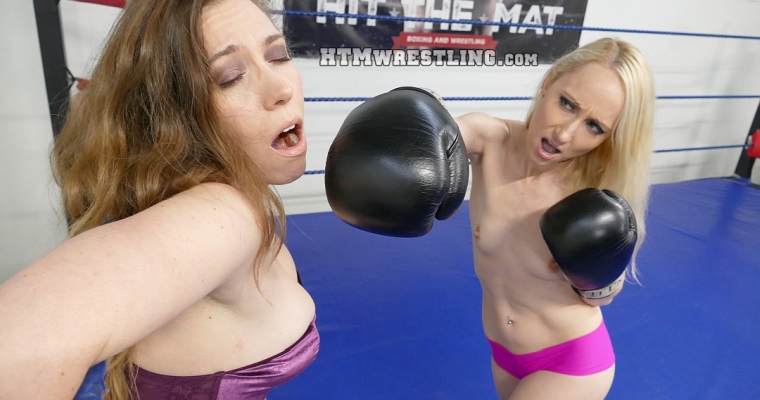 Lucky takes on Samantha Grace in a Bra and Panties foxy boxing match! Sam doesn't think much of Lucky, given Lucky's been out of the game for a few years. And in the first round, Samantha DOMINATES Lucky! Sam knocks the boasts right out of Lucky, opening the round with some punishing belly shots and vicious head snapping hooks. Lucky is dazed and on the back foot immediately from Sam's power, and finds herself as nothing more than Samantha's blonde little punching bag in the corner. Lucky suffers several knockdowns in the first round alone, and after a humiliating beating, must take off her top for the next round.
All fired up and sick of Samantha's trash talk, Lucky shuts her up with a lightning quick jab to the mouth, stumbling the stunned Sam, who slips down to the canvas. Sam rises back up and Lucky is immediately on the assault, beating Sam about in the corner. Now it's Sam's turn to hit the mat multiple times as the enraged Lucky beats some payback in to Samantha face and belly! After a crushing round 2, the humiliated Samantha must now take off her top.
Round 3 is a back and forth absolute slug fest, with both topless girls getting beaten up, although Sam seems to have a slight upper hand. In the 4th round, just when it seems like both girls are exhausted, Lucky EXPLODES on to Samantha with renewed fury, knocking her about the ring. Lucky is swinging for the fences with giant hooks and uppercuts, then gives Sam "the kiss goodnight", with a jaw shattering uppercut that sends Sam crashing to the mat for the knockout victory. Lucky celebrates with a special little victory dance!
But that's not all! Included is an alternate, non-canon ending where Samantha dominates Lucky for the final round, and knocks her out for the win.
- Boxing Screenshot Gallery -


Fantasy Foxy Boxing Featuring: Big head snapping punches, stripping, belly punching, topless girls, some clinching, several knockdowns, knockouts.



Note that preview clips may have slightly offsynced audio


Tags: Lucky, Samantha Grace, Topless

Please note! Prices listed here are BEFORE any applicable local taxes are applied.

---
Related Videos
---