Famous female wrestler, hot blonde Amber O'Neal steps into the boxing ring with our resident male boxer Darrius. She is confident she is going to, "bust him up" and prove he's just a mixed boxing chump. Darrius is not impressed as he turns his back to her and walks to his corner. At the sound of the bell she wastes no time jumping on Darrius and making good on her promise. Darrius is battered early on and nearly gets taken out, but a few rounds later this turns into a back and forth slugfest!
MARKDOWN! Was $29.99, now $19.99! $10 off!


Buy Now for $19.99





Image Galleries: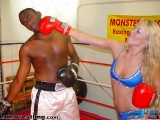 1 Photos

Preview Clips
Contact hit_the_mat@yahoo.com to order
| | |
| --- | --- |
| Other Purchase Options: | Note: these will take you to the Clips4Sale or Videos4Sale store! |
| Videos4Sale - Length: | Price: N/A + shipping |
| Clips4Sale - | $19.99 |
Note: Problems with Clips4Sale/Videos4Sale orders must be taken up with them! More info.
Currently in -