Type: Mixed Boxing
Length: 32 min


for $19.99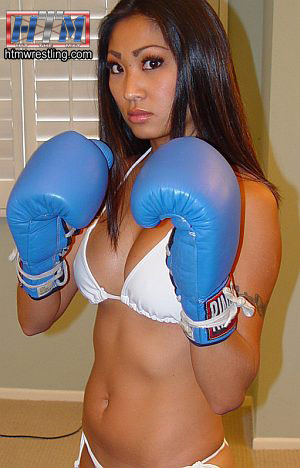 Darrius is ready to go toe to toe in mixed boxing with the sexy Nicole Oring. Nicole looks stunning in her white bikini and blue boxing gloves. They stand mere feet from each other as they stretch and warm up, the atmosphere charged between these two boxers. Nicole leans in close to Darrius ear and whispers that she is going to knock his ass cold. Darrius says nothing, replying with a cold, emotionless stare as he waits for the match to begin. This boxing match is different from the others. No rounds, no ref, only a Knock Out will decide this match. The fight starts off with Darrius having trouble making contact with the nimble and quick Nicole, and she snaps his head back with repeated jabs. ou get to see from the POV of Darrius as Nicole knocks him around the room. Nicole backs Darrius up and pounds on his abs with lefts and rights, knocking the wind from him early. Nicole is relentless as she keeps Darrius on the defensive for the first half of this fight. Darrius makes a comeback, dazing Nicole with a right hook to the chin. Now Nicole is on the end of a beating, taking some serious belly punishment and being downed several times. Both fighters have taken a beating, but who will come out on top?
Image Galleries
: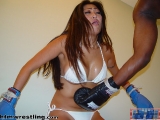 1 Photos
Preview Clips
for $19.99
Contact hit_the_mat@yahoo.com to order
| | |
| --- | --- |
| Other Purchase Options: | Note: these will take you to the Clips4Sale or Videos4Sale store! |
| Videos4Sale - Length: | Price: N/A + shipping |
| Clips4Sale - | for $19.99 |
Note: Problems with Clips4Sale/Videos4Sale orders must be taken up with them! More info.