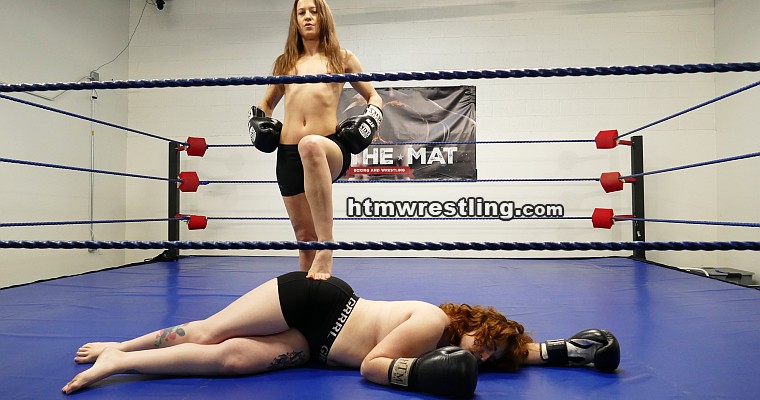 Round 3 is another complete boxing beatdown, with Cheyenne dominating Ginger completely. Cheyenne takes a break to take off her top, and if not for that Ginger would have been counted out!
Round 4, Cheyenne gives Ginger a free shot. To Cheyenne's surprise, it hurts! Ginger actually gets in some offense and manages to knock down Cheyenne twice. But don't get too cocky Ginger, now Cheyenne isn't going to go as easy on you!
By Round 5, Ginger is out on her feet after being Cheyenne Jewel's punching bag, and it's only a matter of time. With a big uppercut, Cheyenne puts an end to Ginger's dreams of victory, counts her out and adds some facesitting humiliation at the end.
But being a good sport, Cheyenne "wakes her up" afterwards.
- Topless Boxing Screenshot Gallery -



Scripted fantasy foxy boxing with NICE belly shots!


PLEASE NOTE – 9:04 – 9:17 is not a glitch and was intentional for the narrative of Ginger "waking up".




Note that preview clips may have slightly offsynced audio


Tags: Belly Punching, Cheyenne Jewel, Ginger Sparks, Topless

Please note! Prices listed here are BEFORE any applicable local taxes are applied.

---
Related Videos
---