AUGUST 2021 UPDATE:
Part of our ongoing HTM classics remastering project, we present the 720p remaster HTM177/HTMV80 – Frankie vs Duncan – Step Mom vs Step Son Taboo Boxing.
This is a custom video with a step-relative twist, and a mix of boxing-wrestling brawling action. Including back and forth head snapping face punches, belly punches, clinches, smothers, atomic drops, pins, submissions, elbow drops, stomps..basically an anything goes brawl!
Original description: Frankie plays Duncan's Step-Mother-in-Law, and she is not happy with him! Duncan doesn't believe women can fight, and isn't shy about saying so. Frankie takes offense to this, and is going to punish him in the ring. Both fighters fight dirty an this gloved brawl goes back and forth. Frankie looks to teach this boy a lesson he won't forget, but it will not be easy!

or

Note that preview clips may have slightly offsynced audio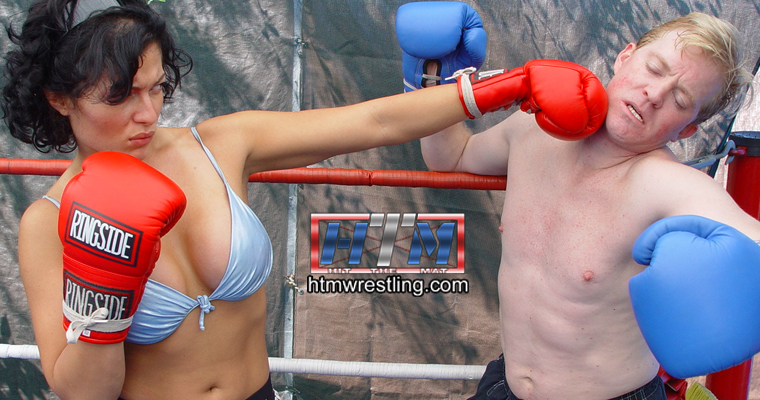 Spoiler: Frankie Z Wins. "Taboo Boxing"
Production notes: While remastering has improved the aspect ratio and amount of picture originally cut from the frame, the source still had some frame "ghosting" issues. In motion, these are not noticeable, but they can be seen in stills. As such, this video is being posted at a deep discount. 45 mins of video for $20!
Please be aware so you can make an informed purchase.
Screenshot gallery


or