The mixed boxing match the fans have been asking for is finally here! Chi Chi Medina takes on Rusty Nails, and she's in for the fight of her life. Chi Chi has been wrecking her female opponents boxing, but how long can she last against the most dominant male fighter in the mixed boxing world?
Chi Chi is aggressive in her pursuit of Rusty, but her punches can't seem to land, and only get countered. Chi Chi has strong jaw and tough body (and breasts!), able to absorb Rusty's quick punches, but it's only a matter of time. Chi Chi's top mysteriously disappears after one of her knockdowns (must be the underwear ninja), and she fights the rest of the match topless.
Chi Chi is dominated, defeated and then tied up for use as a human punching bag!
Even in defeat, Chi Chi is the hottest foxy boxer on the planet!

or

Note that preview clips may have slightly offsynced audio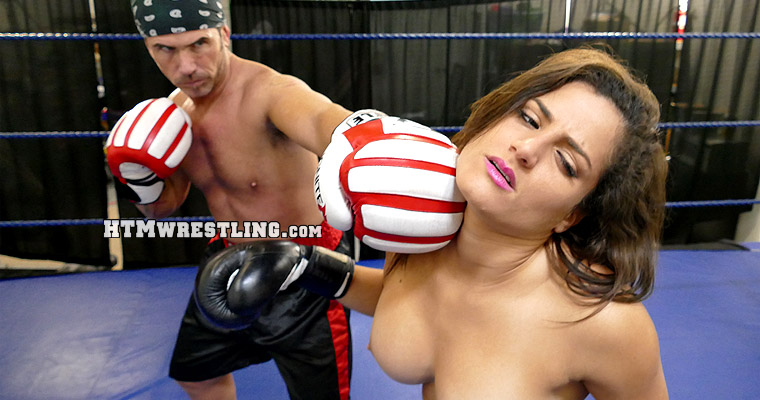 Fantasy maledom mixed boxing custom video.
Contact us for your own boxing customs!
- Screenshot Gallery -


- Photo Gallery -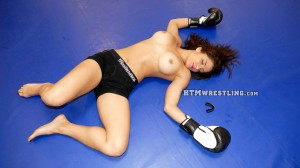 12 HQ boxing photos of Chi Chi vs Rusty Mixed Boxing

or

REVIEWS/COMMENTS


@007ThanksQ: FINALLY got a chance to watch Rusty vs. Chi Chi from @HitTheMat and it WAS AMAZING. Such a fun match, loved seeing Chi Chi get completely dominated. She makes a sexy jobber. Hopefully we see more like this with her.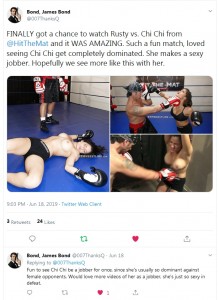 @MattDallas82: I loved this one as well. Definitely the hottest "guy wins" boxing match of the year if not longer. And I've watched a LOT of videos from a lot of places.