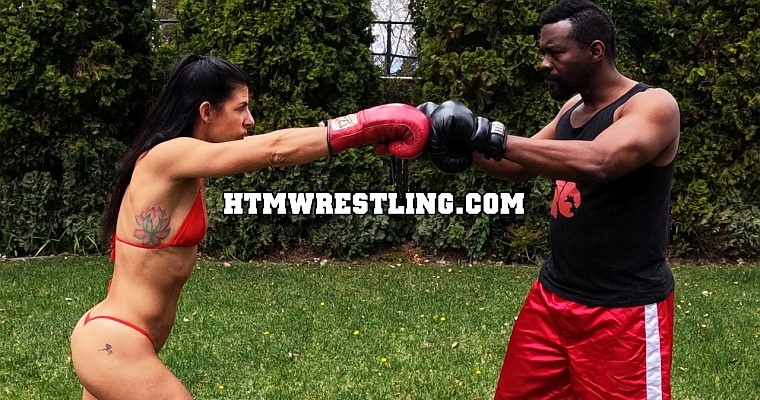 A five round light semi-competitive mixed boxing session outdoors in southern California featuring Bianca Blance in a tiny bikini (where her top comes off a round in) vs Darrius. A bit of an homage to DWW's Garden Mixed Boxing series. Bianca is typically on the offense and will throw some hard swings, while Darrius is content to defend and pick his shots, and be typically Darrius.

We start off with Bianca Blance wrapping her hands, and putting on an older type of Cleto Reyes boxing gloves. She dons a mouthpiece, and warms up with some shadow boxing. Bianca is energetic and aggressively tries to work her way in, but the height difference is a lot to overcome. At the start of the second round, Bianca removes her top to spice things up a bit, but doesn't seem to enjoy it much when punches land on her exposes breasts. Bianca is also willing to fight a bit dirty, trying to get breast smothers in the clinches, and somehow manages to get his shirt off with her gloves on.

After 5 rounds of boxing, Bianca cheap shots Darrius, sending him to the ground. She then sits on his and continues to beat him while he's down, then puts a foot on his stomach and flexes for the victory pose.

Stats:
Bianca Blance 5'6″ 135lbs
Darrius 6'2″ 235lbs

- Boxing Screenshot Gallery -



Light semi-competitive mixed boxing session

More recommended sparring videos –

Warrior Amazon vs Darrius – BoxingCourtney vs Rusty – Real Boxing / SparringHotstuff Hollie vs Darrius Sparring


Note that preview clips may have slightly offsynced audio


Tags: Bianca Blance, Sparring, Topless Boxing

**View directly on CLIPS4SALE to use the Shopping Cart function!

Please note! Prices listed here are BEFORE any applicable local taxes are applied.

---
Related Videos
---