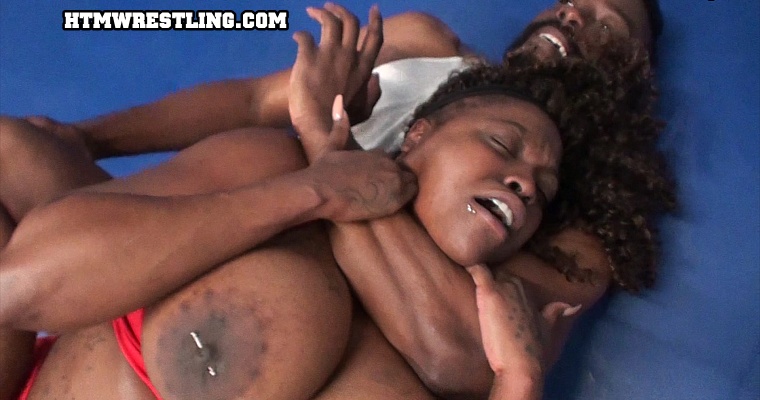 Stella Danny's first mixed wrestling match, and Darrius is all too happy to show her the ropes, the hard way. A mere 52 seconds in and Stella's massive boobs are already popping out! Stella might be laughing, but she won't be too happy after Darrius is done humiliating her. 100% maledom mixed wrestling.
Stella starts cocky coming from her corner laughing and smiling as they meet in the center of the ring. Darrius shows off some skills immediately throwing Stella to the ground. Stella seems to be enjoying it as the smile never leaves her face, that is until she finds herself not only coming out of her top, but in an RNC hold which threatens to put her to sleep. Darrius starts teaching Stella how to get thrown around the ring, and how to be put into hold after hold. No matter how hard Stella tries Darrius manages to contain the busty Amazon. Darrius stretches Stella out in a brutal camel clutch, and threatens to shave her head. Stella is quickly running out of options as Darrius toys with her shutting down every attempt Stella makes until he finally puts her down for the count. Afterwards Stella wants a rematch after she gets some training.


- Mixed Wrestling Screenshot Gallery -



Maledom mixed wrestling ryona




Note that preview clips may have slightly offsynced audio


Tags: Darrius, Maledom, Stella Danny

Please note! Prices listed here are BEFORE any applicable local taxes are applied.

---
Related Videos
---