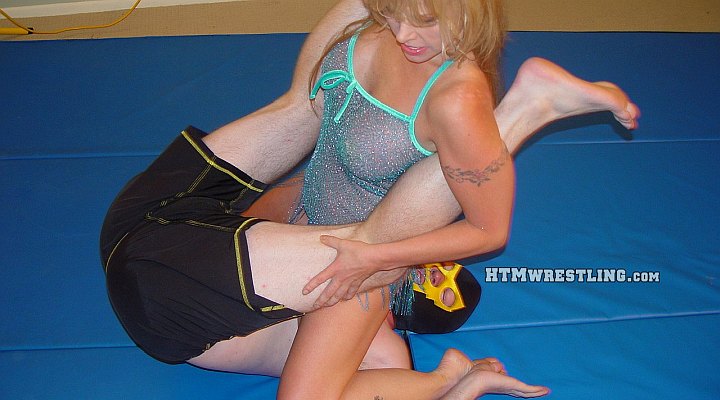 Part of our ongoing HTM classics remastering project, we present the complete edition of Pam Ward vs The Masked Mauler (HTM81) Mixed Wrestling. Now in 1280x720P HD with enhanced detail and aspect ratio corrections. Originaly release Dec 2009.
The Legendary Pam Ward comes to Hit the Mat! She is warming up on her own, when the Masked Mauler appears. Pam wonders who the hell he is. The Masked Mauler thinks Pam's been in retirement and after some heated words threatens to put Pam back into retirement. Pam is unafraid as she checks out her male opponent then viciously knees him in the stomach and throws him to the ground like a piece of unwanted trash. Pam quickly pounces on Masked Mauler first pinning him in a school girl pin trapping his arms beneath her powerful thighs. Proving she has lost no spring in her step she moves to a painful grapevine and smother. She sits up giving the Masked Mauler a brief breather….NOT! She sends an ax handle to his chest and a nipple twist just to add some more embarrassment. In this clip Pam works over Masked Mauler with stomps, full nelsons, standing surf board, single leg lock, and a huge flying body splash that has to be seen to be believed. Flips and throws are also put on the Masked Mauler that has him writhing in pain all over his body. The Masked Mauler may have bitten off more than he can chew, and may not be able to rally a comeback as Pam shows him who is boss. She sits on his chest slapping his head, making fun of him wearing his mask, and calling him the wimpiest guy she has ever met.
Pam moves behind to the Mauler's back locking up his arms and driving his head into the mat. Pam bounces his head off the mat a few more times then rolls with him and ends up sitting on his chest and squeezing his head in a head scissors!. Pam puts the hurt on his neck, as well as stretches him out in a not so nice way. She holds him in a painful position while his male ego continues to talk about how she is going to, "pay for this", and Pam does not look worried. Getting tired of beating up on poor Mauler, she lets him go to see what he's going to do next. Unfortunately as he stands up, after shaking off the kinks and twist she's put him into, Pam pounds his stomach with a right uppercut that drops him back to the mat. Pam shows the Masked Mauler an old school ass whuppin. A knee across the throat, ankle locks, grapevines, breasts smothers, a school girl pin with some humiliation added in, small digit manipulation, and a high flying body splash are some of the moves the Mauler has to endure. Pam puts the Masked Mauler out of his misery, and poses for the camera. She is back and ready to take on her next opponent, and we have one lined up for her.
- Mixed Wrestling Screenshot Gallery -


Fantasy Mixed Wrestling



Note that preview clips may have slightly offsynced audio


Tags: Femdom, Masked Mauler, Pam Ward

Please note! Prices listed here are BEFORE any applicable local taxes are applied.

---
Related Videos
---