It's East Coast vs West Coast when Devon D'amo takes on Darrius in a mixed wrestling match! Devon and Darrius have been talking a lot of trash to each other since the Women's Wrestling Convention, and in a trip back to California, Devon got a chance to put up or shut up. She gladly stepped onto our mats to face Darrius. Both wrestlers go back and forth with moves and trash talk. Head locks, monkey rolls, stomps, camel clutches, stunners, kicks, stomps, hair pulling, and full nelsons, are only SOME of the moves in this video. They both enjoy tormenting each other physically and verbally, as they try to submit or knock each other out!
for $16.99
Image Galleries
: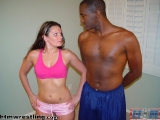 1 Photos
Preview Clips
Spoilers: Devon Wins by KO
| | |
| --- | --- |
| Other Purchase Options: | Note: these will take you to the Clips4Sale or Videos4Sale store! |
| Videos4Sale - Length: | Price: N + shipping |
| Clips4Sale - | for $16.99 |
Note: Problems with Clips4Sale/Videos4Sale orders must be taken up with them! More info.