Goldie Blair and Darrius square off in mixed wrestling on our mats. The start in lock up and Goldie quickly captures him in a head lock. Darrius uses his size to trap and mount Goldie. They battle for position and he quickly rolls her over and gets to her back squeezing her in a body scissors. Goldie, who has a smile on her face, uses her speed to out maneuver Darrius and put him in a grapevine, stretching out his legs, and smothering him in her breasts. Darrius has no answer as Goldie slides up and face sits him. She is enjoying every minute of dominance as he tries to use his legs to get out, and only manages to get folded over by Goldie. She toys with him a little, letting him struggle, and putting him in a figure four that he manages to escape. They face off again and now Darrius uses the headlock, but now he goes from that to a full nelson, to a body scissors with the full nelson. Goldie is subject to Darrius will as he puts her in an arm bar, and leg and chin lock. Getting cocky Darrius makes a mistake and Goldie capitalizes, choking, breasts smothering, body and neck scissoring, arm baring and a variety of other moves. Both wrestlers give as good as they get, and deliver devastating holds, chokes, punches and kicks. But even as one is able submit the other with a brutal back breaking hold, the loser immediately wants a rematch. Will it happen? We will see!
Image Galleries
: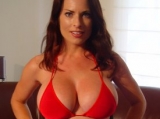 1 Photos
Contact hit_the_mat@yahoo.com to order
Product Options

| # | Option | Price | File Size |
| --- | --- | --- | --- |
| 1 | DVD-NTSC | $18.00 | |
| 2 | Download-WMV | $15.00 | error |
Preview Clips
| | |
| --- | --- |
| Other Purchase Options: | Note: these will take you to the Clips4Sale or Videos4Sale store! |
| Videos4Sale - Length: | Price: N/A + shipping |
| Clips4Sale - | Full Fight| 13min | $13.99 |
Note: Problems with Clips4Sale/Videos4Sale orders must be taken up with them! More info.