<-- Return to Video for Purchase Options!
Female Boxing Knockouts Gallery photo Gallery
Women fighters get in the ring, boxed around, and knocked out! This female boxing gallery features sexy knockouts, girl fighters out cold flat on their backs. Down for the count! Knocked out boxing girls in order of appearance: Crystal, Francesca Le, Helena (2x), Lucky, Nikki Fierce, Pandora, Shauna Ryanne, Yasmin Telles, Ashley Lane, Bambi, Chi Chi Medina. What a collection of knockouts!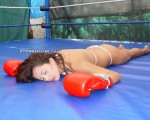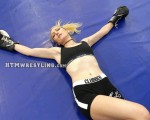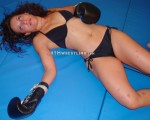 Train hard or Hit the Mat! May the best foxy boxer win!
Boxing KO photos from various:
Hit the Mat Female Boxing Videos
Mixed Boxing Videos at HTM
Note: Still HQ/photo sets are supplemental and may sometimes contain poses not found in the associated video. If you have any questions, please contact us!