It's June 2022 and the latest order of custom Hit the Mat boxing gloves are here! Darrius (and his co-stars) can be seen unboxing them below.
The old school, vintage style boxing gloves were the most popular of the bunch this time around, now in more colors than ever before. Including old school brown, shiny metallic gold, green, and of course the original black and red. The vintage blue "puffy" gloves recently debuted in
Denise vs Katarina Boxing
, worn by Dynamite Denise and they looked absolutely STUNNING.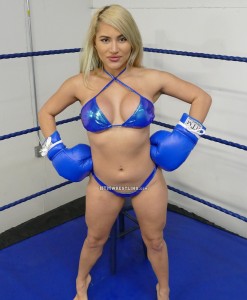 If you're looking for your own pair of HTM Boxing Gloves, be sure to follow and hit up Darrius.

#BoxingGlovePorn
---
Latest Videos
---
Related Videos - Behind The Scenes
---