11 minute femdom boxing beatdown clip compilation featuring Kay. Watch everyone's favorite jobber get his ass kicked by the likes of Chanell Heart, Sarah Brooke, Misty Stone, Jewell Marceau, Erika, Gabrielle and Lauren Phillips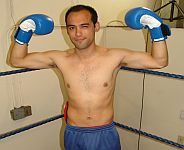 Watch HTM's most punchable face get beat in again and again!
Kay has been looking to score his first victory at HTM, will 2017 be the year he does it?
Spoilers: It wasn't. He retired with a perfect all-loss record.
---
Latest Kay Videos
---
Related Videos - Boxing
---