Hurricane Maria Marley is back at Hit the Mat, and has taken a liking to Darrius's own trunks! Proudly proclaiming to be "in his pants", he must fight the VERY skilled Maria to get them back. And what a fight it is! Maria Marley's got some extremely quick hands, good footwork and great fighting form. Darrius thinks he has the upper hand when he rocks Maria with his big hooks, but it turns out she was playing possum as she EXPLODES back with a lighting fast shot! Darrius must draw on his years of martial arts experience and reflexes to try and keep up, but Maria's pro-level speed can be overwhelming.
As the boxing war rages on, Maria's clothes continue to come off! Darrius seems to catch on to Maria's rhythm, and is able to block and dodge many of her shots. First she finds herself stripped of her top for the second round, then she must fight completely naked in the final! Embarrassed and enraged, Maria comes after Darrius but is picked apart with body shots and head snapping hooks. She never gives up the fight, but ultimately Darrius knocks her bare naked ass out.
Now it's Maria's turn to play the human punching bag for a little boxing bondage! Or, is it? Maria Marley STILL has a ton of fight in her, even when her hands are tightly bound above her head. She kicks at Darrius, but he mocks her and finds ways to beat her despite her continued combativeness. He pounds at her body, and then knocks her out one final time. Goodnight, Maria!
See this video and many more on Clips4Sale, or
Note that preview clips may have slightly offsynced audio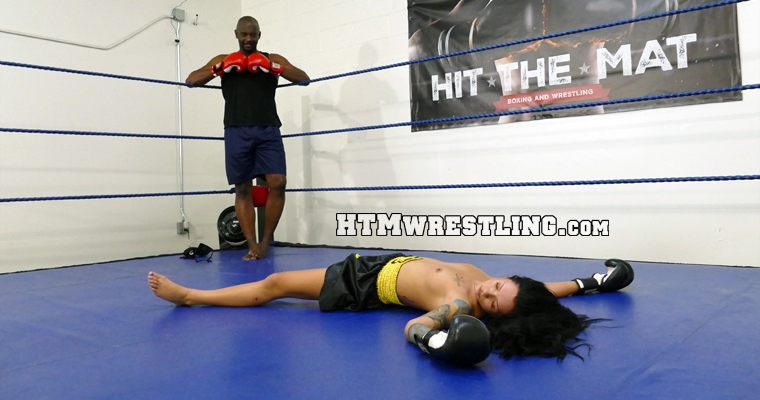 This fantasy mixed boxing match features Maria Marley not only displaying great fighting skills, but great selling skills in a back and forth match where Darrius asserts more and more dominance, until she is defeated.
-
Screenshot Gallery