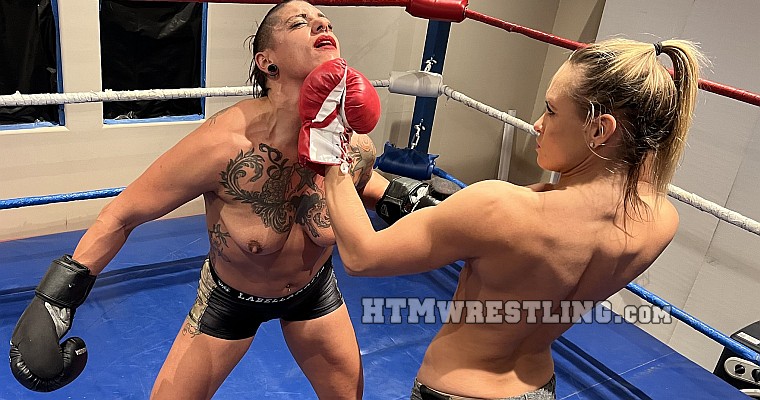 Round 3 – Lilly Ice is shaking off the pain from the previous round, and is looking to pay MJ back with interest. Lilly asserts her dominance this round, with authority! MJ hits the mat repeatedly, being knocked down several times. MJ won't go down without a fight, but is clearly having trouble scoring good hits. Lilly is unafraid of MJ's jabbing to keep her out, and continues to land rib cracking body shots.

Round 4 – MJ still has a lot of fight in her, but Lilly's able to bob and weave through MJ's offense and score some hard counter punches. This round sees a lot of infighting on the ropes, but Lilly is the one landing the big shots and scoring the knockdowns. A final massive superman punch-like overhand right sends MJ crashing to the canvas, unable to make the 10 count. Your winner, Lilly Ice! Lilly adds some insult to injury, flexing over then stepping on her defeated opponent.

Alternate ending where MJ wins is coming up!


- Boxing Screenshot Gallery -




Note that preview clips may have slightly offsynced audio


Tags: Lilly Ice, MJ the Dominator, Topless

**View directly on CLIPS4SALE to use the Shopping Cart function!

Please note! Prices listed here are BEFORE any applicable local taxes are applied.

---
Related Videos
---