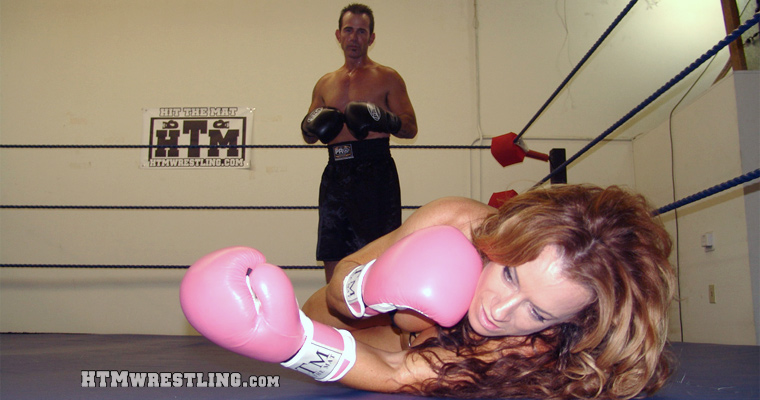 2022 update! Now remastered in 1280x720HD at 60FPS with a short bonus warmup round and a few slow motion replay highlights.



Jennifer Thomas challenges Rusty to a fight, looking to get some revenge for a friend he beat up. Unfortunately for Jen, she's never faced boxer anywhere near on Rusty's level and it's clear when she can barely land a punch. At the start of Round 3, Rusty invites Jennifer to pound away at his body, to no effect. Jennifer is slowly toyed with, picked apart and dominated over the course of 5 very punishing rounds until she is knocked out!
Fantasy mixed boxing, Jennifer Thomas's toughest boxing challenge yet!
REVIEWS


Buyer: MD88

Here's my little review of Hit the Mat's boxing video, Jennifer Thomas vs Rusty

If you follow Jennifer Thomas and her line of work, you know that she's a powerhouse fighter and usually a dominant force. Usually. It isn't always the case, and it's certainly not here. Jennifer starts out this fight serious while Rusty starts out as a mocking, cocky bastard without even a word. The tension builds over the course of the first round with Jennifer's punches easily stopped and slipped. By the end of the round after getting worked a bit, Jennifer is left in the corner, breathless and the look on her face alone tells the story. 


This is really where Jennifer's performance shines. Her expressions and body language really convey the various emotions she's feeling during the match. She goes from being determined, to wary as she's backing away, to outright panicking when she's being overwhelmed by dozens of fast punches. Rusty too, puts on a physically dominating performance that tells the story through simple body language and expression. They play off of each other really well.


There are also some nice cinematic touches and spots that HTM hasn't done before or all that often, and it keeps things fresh. A few different cuts and angles change up the usual action. All this happens as Jennifer continues to get worn down, and knocked down again and again. I've seen Jen end up on the losing side before, but not quite as one-sided as this. She doesn't stand a chance and after taking a beating, she knows it but doesn't give up. There's also a spot where Rusty lets Jennifer just wail on him to no effect. I've seen that in other mixed videos, but rarely from HTM. Something they should do more often.


While Samantha Grace vs Rusty had a hotter premise (Strip boxing and she's losing? Yes please!), the action in this one feels more intense. Instead of defeating newcomers who didn't have much of history in the "fight" game, Jennifer is an established player on top of having the powerful build. Having her dominated by the new bad guy kind of takes me back to things like The Undertaker beating Hulk Hogan. Or Randy Orton being the "Legend Killer". Now the only question is…who's next?



Note that preview clips may have slightly offsynced audio


Tags: Jennifer Thomas, Maledom, Rusty, ryona

Please note! Prices listed here are BEFORE any applicable local taxes are applied.

---
Related Videos
---