An impromptu mixed boxing fight breaks out as Andie and Darrius meet up in the ring so that Andie can learn how to box. Darrius give her a few lessons on certain punches, and then walks away to get a drink but then comes back to get a huge right hook to his jaw. Maybe he taught her a little too well. Andie taunts Darrius and tries to knock his head off but he ducks and he looks rather pissed, as Andie looks a little nervous. She ends up getting her boxing lesson the hard way, as she is punished for her cheap shot. An unexpected haymaker rocks Darrius then Andie takes the initiative and goes on an all out offensive. Can she keep her advantage in this mixed boxing match, or does she still have a lot to learn?

for $24.99
Image Galleries: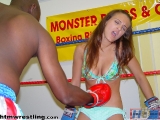 1 Photos
Preview Clips
Contact hit_the_mat@yahoo.com to order
| | |
| --- | --- |
| Other Purchase Options: | Note: these will take you to the Clips4Sale or Videos4Sale store! |
| Videos4Sale - Length: | Price: N/A + shipping |
| Clips4Sale - | Full Download |
Note: Problems with Clips4Sale/Videos4Sale orders must be taken up with them! More info.