Christina Carter returns to Hit the Mat and declares herself the champion of the gym, shoving Rusty out of the way so she can work on the bag. Rusty tells her she can't punch for shit, which is as good a reason as any to fight. This is a knockout challenge match, whoever has the most knockouts wins. Christina is a tall wonder of a woman, but like many before her she struggles to land a clean hit. After getting knocked out once, Christina takes her top off and bounces around, hoping to use her rack as a distraction. While it does seem to grab Rusty's attention, it doesn't seem to help Christina's fight. If anything, now Rusty's punches are more focused on her breasts! Christina is knocked around, dominated and knocked out over and over until she can't continue the fight. At the end, Christina bound handcuffed to the heavy bag so Rusty can "show her how to punch" and toys with her. Christina's bare breasts have never been worked like this before!

or

Note that preview clips may have slightly offsynced audio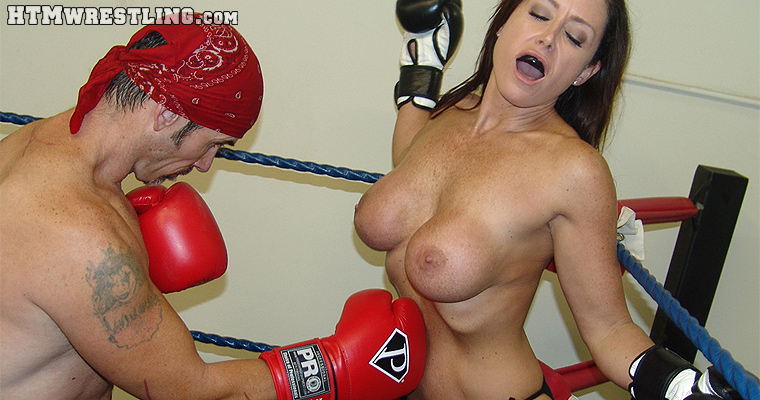 Fantasy mixed boxing domination, Christina Carter is out-boxed, knocked out over and over, then bound and beaten some more. With LOTS of Tit Busting!
+ Shop for this video and more on Clips4Sale +, or


BUY NOW for $18.99
Blow by Blow Description of the Fight
Christina Carter starts off throwing punches that Rusty dodges effortlessly. Christina takes a punch to the stomach which gets her attention. She's slightly more hesitant to throw a punch, but continues her attack. Another quick counter to the body by Rusty, but Christina's abs are tough enough to take the punch. Rusty tries to give Christina a little bit of advice, but she doesn't really acknowledge and takes another punch to the belly. Christina's boxing offense is deftly parried and avoided by Rusty, and quick snapping shots keep landing on Christina's body. Christina charges in as Rusty ducks her shots, ties her up at close range and after a shot to the ribs, pushes her across the ring. Rusty parries a few more of Christina's punches, and lands a bit of a dirty shot right on her butt. Christina is punching slower, still unable to land and Rusty seems to feign a bit of distraction before firing off a sharp shot to keep Christina away. Christina Carter, getting frustrated, tries to rush in and ignore the punches she's taking. Rusty fends her off with a quick flurry. A few more missed punches by Christina and she gets a quick spank to the backside again. Christina Carter hesitates a bit more before being overcome with frustration, rushing in with a wide punch that Rusty easily ducks, and momentum crashes her in to the corner. Rusty uses this chance to pin her down and pick her apart with body shots, then knocks her down with a hard right hook to the face. Christina Carter is laid out for a 10 count and the first knockout.
When Christina Carter comes to for the next round of the fight, she decides to take her top off as a "distraction". For a moment, it seems as if Rusty is hypnotized by Christina Carter's bare, bouncing breasts, but she quickly discovered that by becoming the focus of his attention, her breasts have now become the focus of his punches! After some quick, stinging blows to Christina's breasts and arms, Rusty forces Christina in to the corner and begins pummeling her boobs exclusively. Christina pushes him off, but Rusty quickly puts the pressure back on, keeping her in the corner with quick jabs to the face, body and breasts. Christina tries to cover up, fight him off, do whatever she can to survive, but can't seem to escape the corner. Christina is wearing down as a counter punch to the jaw dazes her, and now she is getting worked over in the corner, unable to mount any offense. Christina tries to protect her breasts and body from Rusty's onslaught of punches, but a few more hooks to the jaw send her to the mat for another 10 count knockout.
At the start of the next round, Christina Carter hypes herself up and rushes at Rusty, only to immediately fly back down to the canvas. This time Christina Carter manages to push herself up off the canvas, and get back in to this boxing fight. She attempts to up the pace but only finds herself getting stung in the face and body more by Rusty. Rusty seems amused at Christina's renewed vigor, and easily parries or avoids her punches. Christina ends up with her own glove getting punched in to her face, and slowly pressured back to the ropes. Try as she may to fight him off, Rusty is dissecting Christina with punches too fast for her to keep up with. Christina's head is getting snapped back and her body beaten, then she collapses to the canvas once again. She struggles to make it off the canvas, breathing heavily but still wants to continue. Rusty lets the exhausted Christina come at him, and she's giving it all she's got. A quick stinging jab to the nose stops Christina in her tracks once Rusty's had enough, and now he's swarming Christina with punches all over her body. She ends up back in the corner, beaten up some more, then knocked out for a 10 count once again.
Christina Carter isn't quite as eager to start the next boxing round, saying she hasn't recovered from Rusty's last beating yet and isn't ready. Rusty shows Christina no mercy, beating her in the corner and Christina can barely get off a punch. After a quick pummeling, Christina is sent to the canvas once again for a knockout. Unable to continue fighting, Christina Carter is now handcuffed to the heavy bag stand and used for a human punching bag! Rusty tells Christina he's going to teach her the proper way to throw a punch, and to make sure she's paying attention. Christina's belly and breasts are worked over until she's almost ready to pass out again.

or