Chi Chi Medina vs Delta Hauser – Topless Foxy Boxing is here!
This highly anticipated topless boxing features the short but powerfully built Chi Chi against the much taller Delta. A longer reach is a HUGE advantage in boxing, and Delta manages to score good hits and a knockdown early on. Scrappy little Chi Chi is tough, and can give as good as she gets. In fact, she gives a WHOLE lot more as Chi Chi takes control, punishes and DOMINATES Delta around the ring. Chi Chi is vicious, pushing Delta back in to the ropes, cracking her head back and forth with hooks and pummeling her belly over and over. Chi Chi's punches land solid in to Delta's weak belly, and her head is snapped around repeatedly while Chi Chi works her over in the corner.
Delta hits the mat several times, and the battle damage is piling up. She even seems to take a nap between the 2nd and 3rd rounds! Chi Chi continues to press Delta in to the corner, punishing her belly and even breasts, until Delta can no longer make the count. Delta is destroyed by Chi Chi, only lasting four rounds, and Chi Chi flexes for her victory. Chi Chi isn't finished with Delta though, now it's time to use her for a human punching bag! Chi Chi continues to mock Delta and verbally humiliate her, just like she did during the match. Delta's squirming while bound to the punching bag frustrates Chi Chi, and she beats on Delta even harder. Chi Chi's fast becoming the queen of Foxy Boxing!
See this video and many more on Clips4Sale, or
Note that preview clips may have slightly offsynced audio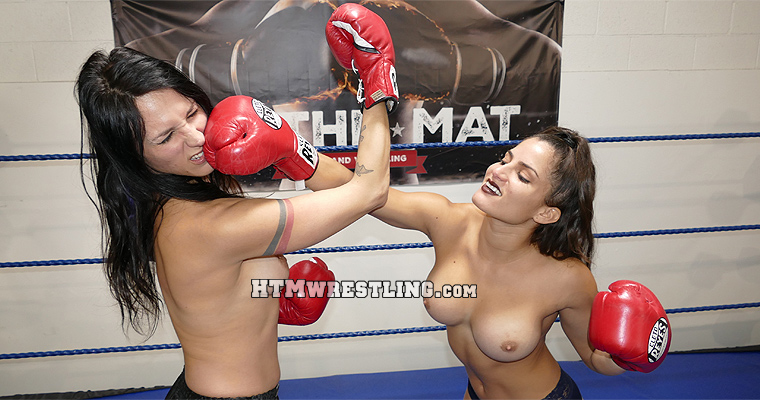 Fantasy topless boxing featuring the hottest boxers in the business, plus a battle damaged Delta!
Topless boxing girls in 8oz red Cleto Reyes professional style boxing gloves. – 1920x1080HD MP4
Contact us for foxy boxing customs!
+ Shop for this video and more on Clips4Sale +, or
Screenshot Gallery

Photo Gallery -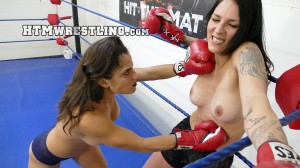 Chi Chi vs Delta Boxing Photo Gallery – 16 HQ pics