Former amateur boxer Annie Cruz takes on strip club cage fight veteran Misty Stone! These two are no strangers to each other and the fists are flying immediately. "The Mouth" Misty Stone is going off on Annie Cruz right away, showing her no respect as she works to rearrange her face and pound her belly. Annie fights her way out of the corner, and now it's Misty's turn to get worked, including her breasts! It's an intense slugfest which has both girls working up a sweat, so they take their tops off for round two.
Annie may regret that, as now Misty targets Annie's bare breast with some SERIOUS punches! Then returns the favor with some low blows of her own to Annie's crotch. Annie will give as good as she gets, though..but not quite enough to keep Misty from taking back control. Annie is desperately covering up by the end of the second round, and runs the clock by tying Misty up in a clinch.
Round 3 starts with Misty talking so much trash, the timekeeper has to yell TIME 3x before Annie finally has enough and shuts Misty up with an epic right hook! Annie is in FIRM control this round, but don't count Misty out. Glistening with sweat, Misty is desperately fighting back but after the second knockdown is struggling to get back up, only to be saved by the bell.

To be continued next time, where you pick the winner!



or

Note that preview clips may have slightly offsynced audio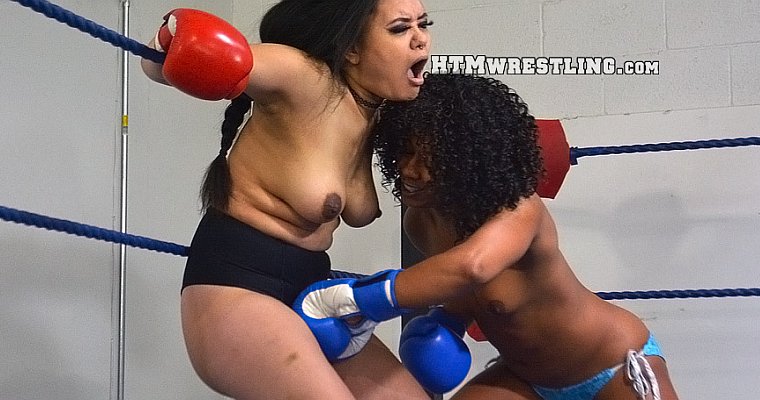 3 rounds of fantasy foxy boxing action, topless from round 2 on. Both fighters wearing boots.
*Note: This is actual Annie Cruz vs actual Misty Stone, not a continuation of Fairweather vs Hacquiao
- Screenshot Gallery -

or