Annie Cruz and Jennifer Thomas glove up for a hard hitting boxing slugfest in the HTM ring! Annie has a reach advantage and experience in the amateur boxing world, while Jennifer is known for her raw power. After some pre-fight trash talk and warmups, the explosive battle is on!
Round 1 sees Jennifer Thomas snapping Annie Cruz's head back with repeated jabs, her long ponytail whipping along in a blur. Jennifer also works to tenderize Annie Cruz's body But Annie has a strong chin (and belly), able to take the punishment and give some back. Both fighters suffer knockdowns and take a beating, and Round 1 is relatively even.
Round 2 starts with a hard left haymaker by Jennifer, and Annie stumbles back in to the corner. Jennifer works Annie's belly over, taking the wind out of her, then moves to rock Annie's head back and forth with a flurry of repeated left-right hooks. A big right uppercut from Jennifer whips Annie's face to the sky, where she hands stunned for a second, then crashes down to the canvas HARD! Annie fights to get up, but she is out on her feet. Another left-right combo of hooks sends Annie back to the canvas, and she is not moving! Is it already over?? Mischievous Jennifer begins the count, but decides to undo Annie's top while Annie is face down KO'd, saving her from being counted out! Annie wakes up and manages to crawl back in to her corner, her breasts now exposed.
Round 3 begins with Jennifer beating the topless Annie Cruz pillar to post, beating her around the ring, up against the ropes, and sending her crashing to the mat again. The beating is taking it's toll, and Annie Cruz is showing signs of battle damage! The woozy Annie rises up again, and the cocky Jennifer invites her to take a free shot. With a surprise jaw-crushing hook, Annie cracks Jennifer and sends her in to the ropes, and suddenly the tables have turned! Annie Cruz presses the advantage and POUNDS on Jennifer's abs relentlessly, shot after shot digging in, almost lifting her from the floor! Jennifer is saved by the bell, but has gotten the wind knocked out of her, hunched over and clutching her beaten abs as she staggers back to the corner.
Round 4 we pan up to Annie Cruz fighting the fog, her head and eyes rolling, but she shakes it off and her game face is back on. Both fighters are wearing down, but Annie's second wind is allowing her to take the lead as she opens up on Jennifer with a combination of straights and hooks, and Jen has her back forced to the ropes once again. Jennifer is in a LOT of trouble, with Annie beating her down and sending her to the canvas multiple times, giving Jennifer little chance to fight back. This round was all Annie's!
Round 5 Jennifer starts off with some jabs to the body and head, but they are not having much of an effect. When Annie fires back, Jennifer is rocked! Jennifer is trapped in the corner and completely dissected, her knees giving out as she's unable to withstand the brutal beating. She rises up once more, stumbling out of the corner as Annie waits in the center of the ring. Jennifer throws a desperate left hook, but only catches air as Annie ducks, and springs back up with a jaw-shattering haymaker that puts Jennifer down for the final 10 count. Jennifer struggles to rise, but has no strength left. Annie Cruz is your winner, and leaves Jennifer with a little kiss and a gift on her cheek!




or

Note that preview clips may have slightly offsynced audio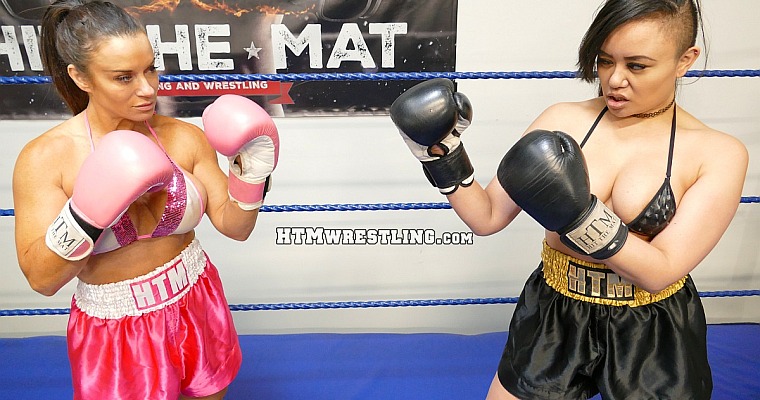 Fantasy female boxing featuring head snapping jabs, hooks, mouthpieces, belly punching, nip slips, multiple knockdowns, battle damage FX makeup
- Screenshot Gallery -



or