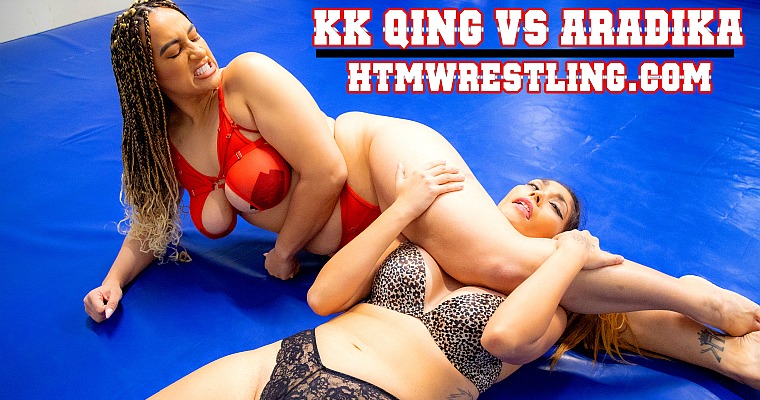 It's Qing vs Queen! The Giant KK Qing takes on Queen Aradika in Aradika's Hit the Mat wrestling debut.
Queen Aradika thought this would be a boxing match, but KK Qing is here to wrestle.
Standing at 5'7″, Queen Aradika is no small fry. But the 5'11″ KK Qing still dwarfs her. Can Aradika overcome the size and power difference? Spoilers: Nope! This is a complete squash match where KK Qing dominates Aradika nearly start to finish, with Aradika barely getting in offense. Featuring a LOT of lift and carry power moves, scissors, pins, submissions and just utter domination as KK Qing has her way with the smaller Aradika. The Qing makes Queen Aradika look like her personal jobber girl wrestling dummy, as Aradika's expressions of fear and helplessness really drive home that she's a damsel in danger. Once KK's had enough of beating up her wrestling toy, she puts Aradika out with an RNC choke hold.

- Female Wrestling Screenshot Gallery -



Fans of one-sided wrestling squash matches will love KK Qing having her way with newcomer Queen Aradika!




Note that preview clips may have slightly offsynced audio


Tags: KK Qing, Queen Aradika

Please note! Prices listed here are BEFORE any applicable local taxes are applied.

---
Related Videos
---