Delta makes her Hit the Mat wrestling debut against veteran catfighter Bella Ink! Both girls start out on their knees, topless. Delta, being quite a bit taller thinks "she's got this". Bella Ink doesn't say a word but lets her actions do the talking as she grabs Delta and shoves her to the mat. Bella wraps her legs around Delta's neck and cranks up the pressure, trapping Delta with her scissor hold. The rookie Delta doesn't seem to know what to do, and Bella transitions to a figure four headscissor, ramping up the pressure even more. Bella, getting bored with the rookie lets her go. Delta slaps a headlock on to Bella, and maybe Bella's "kind" gesture was a mistake! Bella is gagging in the chokehold, and manages to throw Delta off. Bella gets her legs around Delta's long body and starts to squeeze her in a body scissors. Delta struggles to catch her breath as Bella taunts, "that's what I thought!".
Bella Ink smacks Delta's ass while she has her trapped, then squeezes her breasts as Delta tries to worm her way out of the hold. In a surprising feat of strength, Delta manages to stand up, but Bella will NOT let go of the hold. Delta manages to break Bella's vice grip and Bella actually seems pleased, this may be a challenge yet! Delta gets on top of Bella with a schoolgirl pin, and Bella's face seems lost within Delta's thick thighs! But in a flash and showcasing some impressive flexibility and strength, Bella works her feet under Delta's arms and powers out of the pin, slamming Delta to the mat. Bella is back in control and starts teaching Bella new wrestling holds, by applying them as painfully as she can! Bella stretches Delta out in a camel clutch, then a surfboard before Delta manages to twist her way out again, also showing some impressive flexibility. Bella Ink ends up trapped in Delta's scissors, and those long legs prove to be quite strong. Bella struggles for quite some time to escape, before resorting to tickling Delta's foot then quickly scrambling on top smothering Delta with her bare breasts. Bella manages to dominate and control Delta for a while, but Delta tries to fight back. When Delta almost chokes Bella out, she fights out, scrambles on top of Delta and squeezes her breasts hard. Bella now shows no mercy to the newcomer, and finally puts her out with a reverse headscissor. In Bella Ink's words, "Good night, bitch!"
See this video and many more on Clips4Sale, or
Note that preview clips may have slightly offsynced audio.
Fantasy topless female wrestling.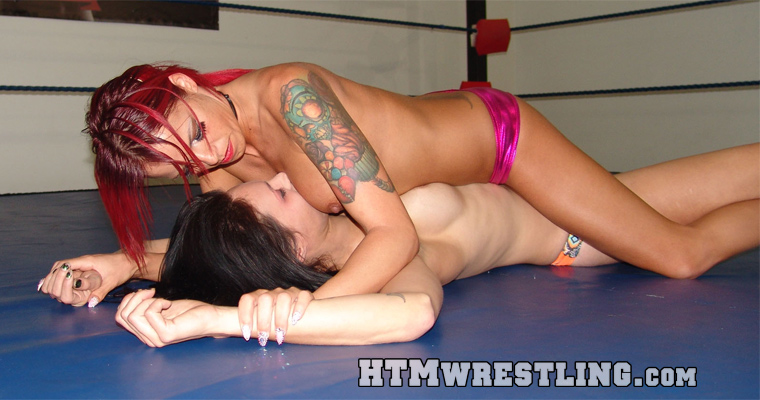 Screenshots -