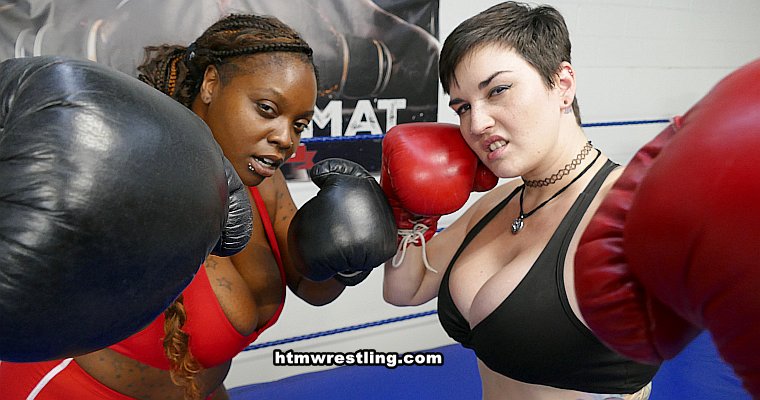 Are you ready to take on the Trouble Twins..two versus one?? This is a POV boxing beatdown session you won't forget, Real Impact POV Style.
Irene Silver is a martial artist with many disciplines under her belt, including traditional boxing. We come in to find her training her disciple Stella Danny, until they see you spying on them in the ring, ready for your boxing session. The two share a mischievous look, and you might find yourself regretting your little voyeurism there… it turns out you will be facing BOTH of them at the same time!
The two ladies quickly turn up the heat on you, with Irene Silver leading the way. Irene shows Stella punch techniques and combinations, trying them on you first, then encouraging Stella to work you over with them as well. You are nothing but a moving punching bag to them! After beating you around the ring, and back and forth between the two, you collapse to the canvas and black out for a bit.
When you come to, it seems they both have taken off their tops! But they aren't done with you, Irene Silver kicks it in to an even higher gear with faster and longer punch combinations, showing off her educated fists. Stella gets her turn on your face and body too, showing great progress and quickly improving boxing skill. They pummel you without mercy until you can no longer stand, continue to beat you while you are down, then it's time for a nice topless victory pose.
Included after the "fight" is a sequence of Stella Danny punching while topless, up closed and focused on her "girls", then played back in beautiful buttery SMOOTH slow motion.
- Boxing Screenshot Gallery -





Note that preview clips may have slightly offsynced audio


Tags: Femdom, Irene Silver, Stella Danny, Topless

Please note! Prices listed here are BEFORE any applicable local taxes are applied.

---
Related Videos
---