Are you new to Hit the Mat? Have you seen some of our past hits? We're compiling a list of fan favorites and some of our own favorites over the years in a few genres for those who have just joined us. We'll start out with our most popular and iconic MIXED BOXING matches. In the following articles, we'll go over newer mixed boxing, female boxing, POV boxing, and various wrestling matches. These are HTM's Top Classic Mixed Boxing Video Picks!

– Classic Mixed Boxing –
While HTM started out with primarily wrestling videos in the early years (especially before the name Hit the Mat was chosen), in mid-2007 a series of male vs female mixed boxing customs put HTM on the boxing map. The fantasy fight series was a huge hit and continued on for several years. Lots of ladies stepped through the ropes and in to the boxing ring, all with their own unique look and styles. These are considered classic boxing videos by many, but the one that stands out the most would have to be: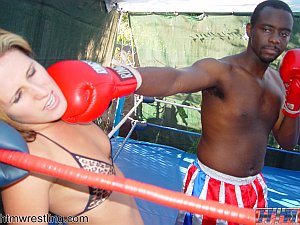 Mutiny vs Darrius
Length: 32 minutes
Price: $24.99
Released: 2008

Mutiny vs Darrius – Mixed Boxing
. Mutiny has become one of the greatest jobbers of all time, and this earlier boxing match in her career certainly shows why. She looks absolutely astonishing when "selling" a beating. Mutiny might be in control in the first half of the match, but her slow dissection and eventual destruction with repeated belly punching, and beautifully sold head snapping face punches make this one extremely memorable. If you are a fan of fantasy maledom mixed boxing and haven't yet seen this video, you simply need to.
– Honorable Mentions –


Many videos in this series are held in high regard by the sports entertainment fanbase, so it's difficult to narrow it down to just a few. The ones we see fans talking about the most often though, would have to be Sinn Sage vs Darrius, Andie vs Darrius, Cali Logan (Topless) vs Darrius and Bambi vs Darrius. All brought their own unique look, attitude, and action.


Is your favorite video on the list? Tell us which clips are YOUR favorite on our social media pages!
And stay tuned for more top video picks!
* "Classic" in this case, refers to matches shot before 2010.
---