Special Downloads!
Special photo set or other downloads. Freebies to show appreciate for our fans!
Added 04-27-2018 – Free mixed wrestling image set download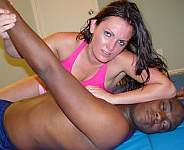 Devon D'amo vs Darrius Wrestling
Another smaller mixed wrestling photo set (17 pics), so we're giving away the picset download for free. You can find Devon and Darrius's mixed wrestling video on:
HTMC32 Devon vs Darrius
Size: 4.57 MB
---
This image set was not very large, so we're giving it away. Enjoy! 24 photos in this mixed boxing image set download.
Picset - Santana Topless vs Darrius Boxing
From HTMC45 - Santana vs Darrius in a topless boxing match.
Video Available on Clips4sale Here
Size: 8.15 MB
---
To celebrate 7,000 Facebook likes, we're giving away this picture set of Kymberly Jane vs Max Mikita, from an unreleased silly boxing video. 25 sexy photos of the girls knocking each other silly!
Picset - Max Mikita vs Kymberly Jane Silly Boxing
An unreleased boxing picset of Kymberly Jane vs Max Mikitia, silly boxing!
Size: 9.24 MB