Raquel's Challenger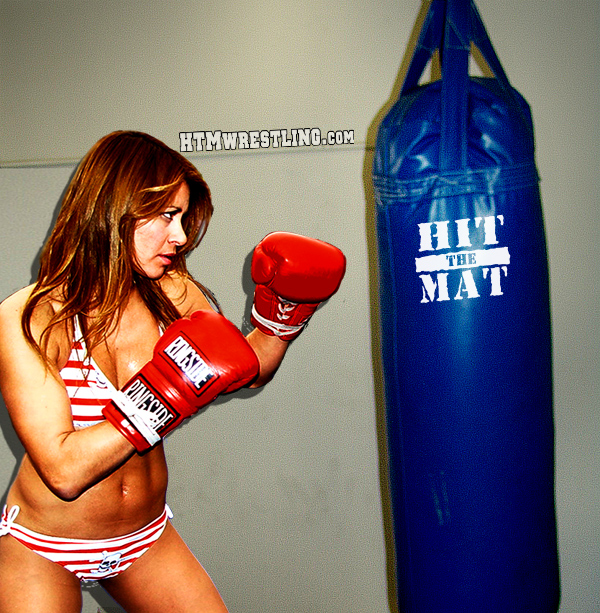 Part 1 – 08/11/2019
Powerful smacks echo through the empty gym, punctuated by the kink of the chain as the heavy bag jerks from the blows. This is the Hit the Mat Boxing club where the fiercest females of the Los Angeles underground fighting world go to train, and settle scores. Tonight, the ultra fit pro-wrestler and cage fighter Raquel does her rounds on the heavy bag.
The 26 year old Raquel stands 5'5", with dirty blonde hair and a well muscled, all natural fitness model physique. Her visibly ripped abs are the envy of many who know her, friend and foe. Raquel's abs don't just look strong, they can take blows from women and even trained male athletes above her 120lb weight.
Raquel works the heavy bag for 3-minute intense rounds, throwing combinations of hard hooks and brutal uppercuts. Most women don't do 3 minute rounds, but Raquel is hardly like other women.
Being from the pro wrestling world, however, has caused many to look down and disrespect her athleticism, calling her a fake. But there's nothing fake about the black eye and bloody nose Raquel gave the last woman who challenged her. A jab-cross-uppercut combo which opened up her opponent's defense, knocking her to the floor and knocking out her confidence.
Raquel is working up a sweat all night as she thinks about a new challenger, another who showed her little respect. This one, however is no pushover. Raquel hammers the mid-section of the bag, picturing a hard left hook smashing in to her opponent's ribs. She then fires repeated jabs while circling around to the left, visualizing an opening before firing a hook-uppercut combo. The bag violently shakes from Raquel 's power, and the automated timer rings. It's been ten, hard 3-minute rounds, and Raquel is drenched in sweat.
Raquel's chest is heaving up and down as sh draws deep breaths , thinking about her future opponent while she takes a one minute rest. Shorter than Raquel, at 5'3", but 125lbs of pure, solid, ripped female muscle. The 29 year old's physique is almost in the bodybuilder range, and she has punching power to match. An adult film star with enhanced 34E breasts, this woman has fought in strip clubs and bars, sanctioned and unsanctioned, tearing apart vicious opposition in an industry where it's well known the woman hate each other. There's no sportsmanship or respect for the rules, and Raquel is expecting a dirty fight.
Raquel bangs her gloves together as the buzzer sounds, signaling the next round and goes back to work on the bag. She knows her shorter opponent will likely try to bull her way instead, where Raquel's longer reach won't be a problem. Raquel keeps her elbows tight, bobs and weaves, steps in for a hard snapping 1-2-3 combo, then dips away and circles to the side. Raquel's concentration is broken by the sound of a mocking sneer. A female voice comments from behind, "Ha! Who do you think you are, Rocky Balboa? Fancy moves won't help you against me, toots ".
Raquel breathes deep, feeling her anger well up. "Blocking with your face is more YOUR style, slut. Not mine". Raquel turns to find her opponent has paid the gym a visit early.
Her opponent, is Devon Michaels.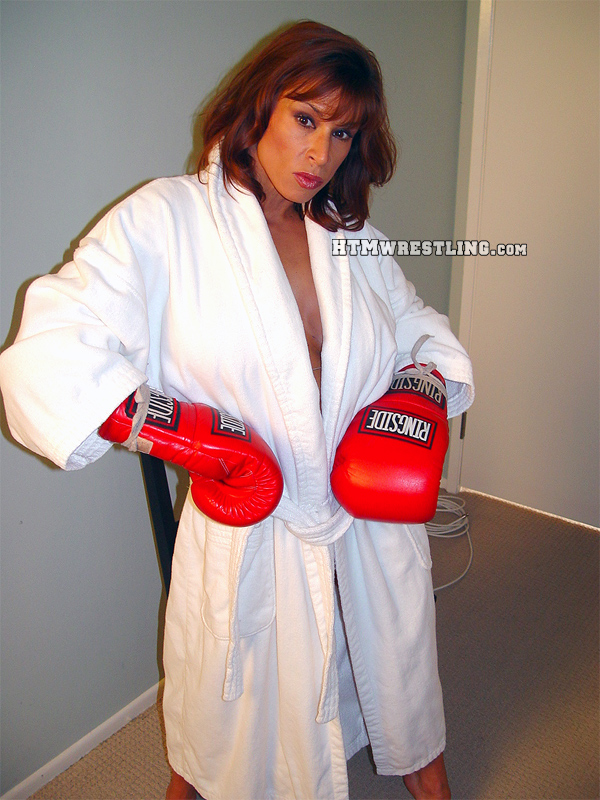 ---