Industry boxing legend Christine Dupree stopped at Hit the Mat for some sparring with Darrius! Here is video of what was filmed.
Christine Dupree had a professional kickboxing and professional boxing career, and still actively sessions and shoots sports entertainment videos.

Rumor at the time was Christie Dupree is tuning up for a possible rematch with Courtney or a match with Rusty!
Fighter stats:
Darrius – 6'2″ 220lbs
Christine Dupree – 6'5″ 115lbs
Christine Dupree Professional Boxing Record –
3 wins, 2 Losses, 0 Draws (5 matches total)
Fight list –
Christine Dupree on BoxerList.com
SessionGirls profile –
Christine Dupree on SessionGirls.com
---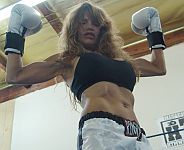 - Watch more HTM videos with Christine Dupree! –
- Watch More Mixed Boxing –

---
Related Videos - Boxing
---