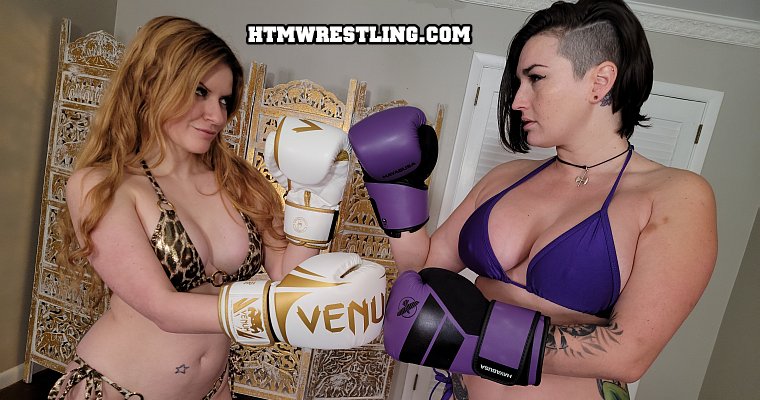 Velvets vs Silver – Bikini Boxing (Jacquelyn Velvets vs Irene Silver)
The 5'10″ Irene Silver takes on the 5'04″ Jacquelyn Velvets in Miss Velvets first Hit the Mat boxing video!
Both sexy ladies are getting warmed up and ready for action, looking stunningly hot in their little bikinis wearing boots and boxing gloves. Jacquelyn has quite the height disadvantage vs Irene, and the opening of the first round has Irene rocking Jacquelyn with hard shots, getting her dazed and dizzy right away. But Jacquelyn strikes back, and it looks like this match won't be completely one sided! …until a quick combo ending in an uppercut causes Jacquelyn to crash to her knees, and down she goes! The dazed Jacquelyn gets back up, and the gloved fists are flying as both bikini boxers trade jabs, hooks, haymakers, belly blows and uppercuts. A somewhat even round one, though it does end with Irene looking more dominant.
Round 2 sees Jacquelyn Velvets start off strong and the taller Irene Silver getting her head snapped around by vicious hooks. Fight back as she may, Jacquelyn starts digging punches in to Irene's belly to soften her up and take her down. This round sees Jacquelyn dominating Irene in almost complete one-sided fashion.
Round 3 – It seems Irene's gotten some pep back in her punch, dazing Jacquelyn rather quickly. But immediately after touching gloves when Jacquelyn gets back up, Irene throws a mean right that catches Jacquelyn off guard, Irene is no longer taking any chances and wants to put her away. Irene hammers Jacquelyn's belly with brutal punches while her back is up against the wall, tenderizing her guts and knocking the wind out of her. Jacquelyn hits the mat several times, unable to withstand the punishment from Irene. It's a brutally one sided final round, as Irene Silver takes her time to enjoy destroying Jacquelyn Velvets, before putting her lights out with a final uppercut that leaves Jacquelyn's eyes rolling in the back of her head.
Post-fight: The victorious Irene Silver wants to make Jacquelyn Velvets her new training buddy! And plans to take her new best friend to meet Bubbles the Clown!

- Bikini Boxing Screenshot Gallery -


Fantasy female boxing



Free HQ Bikini Boxing Gallery (16 pics)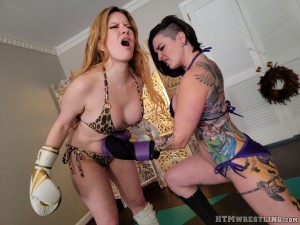 Note that preview clips may have slightly offsynced audio


Tags: Irene Silver, Jacquelyn Velvets

Please note! Prices listed here are BEFORE any applicable local taxes are applied.

---
Related Videos
---