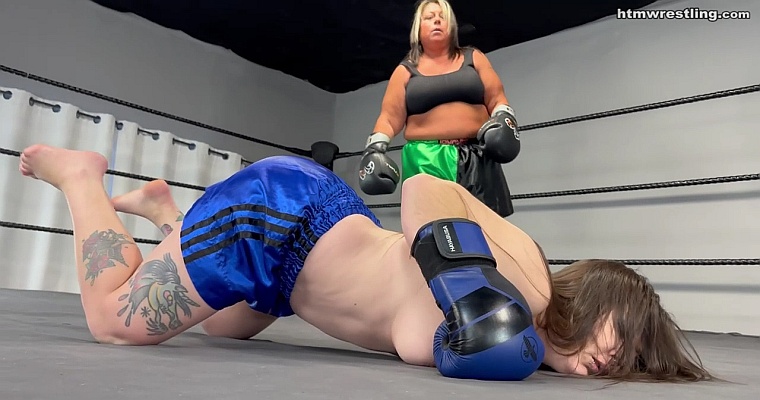 The Canadian Juggernaut Jenny Steel is in her corner when she is approached by Lily-Kat. Lily is surprised to hear that Jenny has never done a nude boxing fight and Lily has a fight suggestion. If you get knocked down for longer than 5 seconds you have to strip out of a piece of clothing. To Lily's surprise Jenny seems unfazed at the suggestion, with all the internal confidence that Lily doesn't stand a chance in this boxing match.
They touch gloves and Lily is excited to finally be able to strip someone in a fight, as Jenny sends Lily crashing to the canvas with her first big punch. Lily already must strip out of her top and the fight back is on. They trade belly blows, and brutal head shots, but it isn't long before Lily is laid out again, another piece of clothing gone. This ignites a fire under Lily as she goes on the attack snapping Jenny's head back and forth. A few times it looks like Jenny is going to fall but she manages to stay on her feet. The same can't be said for Lily as another pounding has Lily spread eagle on the canvas counting Canadian sheep. Another piece of clothing gone, as Jenny, and even the camera woman taunt Lily's misfortune. Jenny goes on the attack knocking Lily from corner to corner. Close ups on Lily's ass as she struggles to stay off the ropes and the canvas. A night ending uppercut sprawl Lily out and Jenny claims victory, but Lily refuses to remove the final piece of clothing and claims Jenny cheated when she stepped on her while she was down.
Salty Lily storms off, feeling quite humiliated!

- Foxy Boxing Screenshot Gallery -



Fantasy one-sided boxing beatdown with lots of belly punching closeups and jiggling



Note that preview clips may have slightly offsynced audio


Tags: Jenny Steel, Lily Kat, Topless

Please note! Prices listed here are BEFORE any applicable local taxes are applied.

---
Related Videos
---