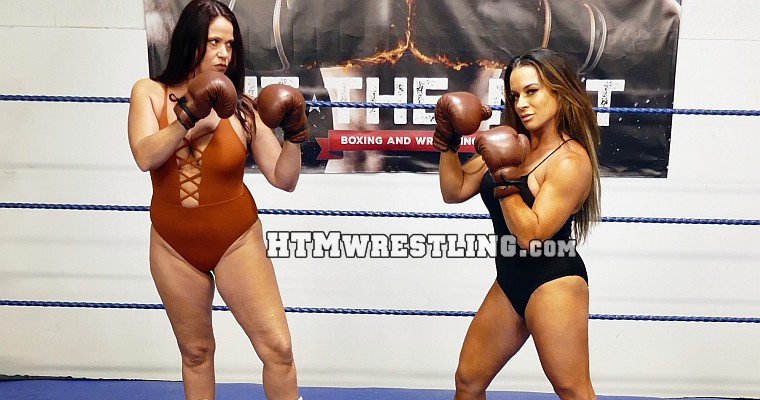 Kristiana and Jennifer Thomas square off for a boxing rematch, this time under Texas Deathmatch Rules.
1. No rounds, just a hard hitting back and forth slugfest.
2. If a fighter is knocked down, her opponent must try to pin her for a 3 count. If successfully pinned, then she will have 10 seconds to get back to her feet, or will be counted out and lose.

This is a tense fight as both fighters know what the other is capable of from their previous match. Quick head snapping jabs, brain rattling hooks, jaw jacking uppercuts and gut busting belly punches fire off in this rubber band battle for supremacy. Explosive blows have bother fighters staggering, trading brutal beatings and knockdowns. Exhaustion is setting in, leading to a staredown and circling as both women try to clear the cobwebs from too many blows to the head. As the action heats up, it's clear that Jennifer Thomas is taking the lead and exerting her dominance. Kristiana is battered, beaten, and finally defeated, out cold. Your winner: Jennifer Thomas!

Fantasy foxy boxing custom video


Note that preview clips may have slightly offsynced audio


Tags: Jennifer Thomas, Kristiana

**View directly on CLIPS4SALE to use the Shopping Cart function!

Please note! Prices listed here are BEFORE any applicable local taxes are applied.

---
Related Videos
---