It's a boxing battle between between two powerhouse punchers! KK Qing takes on Jennifer Thomas for her first foxy boxing match in the Hit the Mat ring. Both fighters are known for their incredible strength and ability to easily dominate and dispatch male opponents in the session world. KK Qing stands at an amazonian 5'11″ while Jennifer is a small but mighty 5'1″ with a strongly muscled build. With a 10 inch height advantage, how will Jennifer handle the giant KK?
First Round: KK Qing seems surprised by Jennifer's power! Jen takes an early lead, and chopping down the giant tree seems like a possibility. Does KK have the durability to match the power?
Second Round: KK starts to make her comeback! After getting worked by Jen, KK overpowers her smaller opponent and tosses her in to the corner, and begins to beat her down. Jennifer is in serious trouble, getting beaten pillar to post, even covering up to try and survive! Just when it looks like it's the end for Jen, she's saved by the bell.
Third Round: KK is fired up and Jennifer still worn down, but all it takes is one big miss by KK, and Jennifer is back in the fight. KK gets worked in the corner, and hits the mat with a crash. KK rises up, and what follows is a Rocky-like epic exchange of HUGE bone-crushing haymakers between the two powerhouses. Neither fighter is giving in or willing to take another fall, continuing to punish each other until the end of the round.
Who wins? Next time, you pick the winner!

or

Note that preview clips may have slightly offsynced audio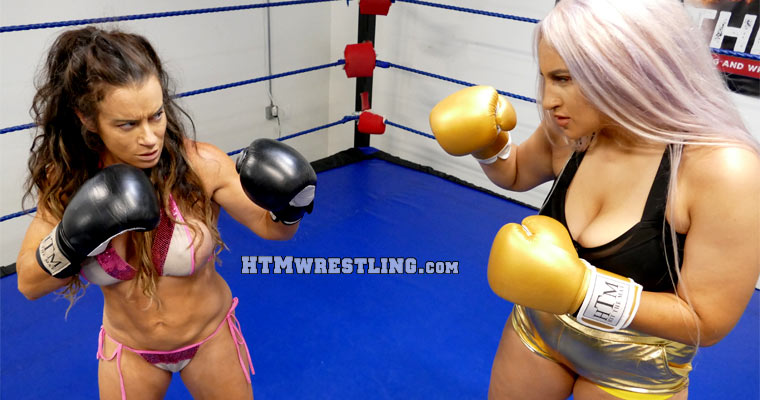 Fantasy female boxing Rounds 1-3 + pre-fight interviews and warmups.
- Screenshot Gallery -



or

Keywords: Boxing boots / shoes, tall vs small