It's Kim Chi's first boxing match at Hit the Mat! Somehow possessing a championship belt, Kim Chi is acting like she's the boss of the ring. Her opponent, Samantha Grace, wants to add some extra humiliation to this match for the newcomer, and when a lady is knocked down, they are subject to some face sitting or stinkface action! The dominant fighter will be sitting on the other girl's face and grinding their pussy in to it! Hopefully Sam doesn't end up regretting this!
This match starts off intense, with Sam swinging big and pressuring Kim up against the ropes. Kim tries to mount an offense, but Sam pounds her belly, and crotch! And Kim Chi collapses to the canvas. Sam mounts Kim and begins to grind her pussy in to her face! The distraught Kim Chi is flailing about trying to escape, but Sam laughs at her. Sam gets up only to turn around and sit on Kim's face again, ass-first with a little twerk! The bell rings with Sam having firmly established dominance in this dirty fight.
Round 2 – Kim Chi wastes no time, throwing punches right as the bell rings and catching Sam off guard. Kim Chi pounds Sam's belly, then nail Sam with a knee to the pussy! Sam is left barely standing up against the ropes, while Kim pummels her breasts, belly, crotch and face. Kim shoves Sam to the ground, but lets her get up to beat her some more. After pummeling Sam around again, Kim Chi sits atop Sam's face and grinds her ass right in. Payback time!
Round 3 – Kim Chi CHARGES at Sam with such ferocity, Sam is too afraid to leave her corner! Kim Chi takes charge of the match, and Sam is left REALLY regretting setting the stakes. Sam is dominated, and utterly humiliated as Kim Chi forces Sam's face where the sun don't shine!
See this video and many more on Clips4Sale, or
Note that preview clips may have slightly offsynced audio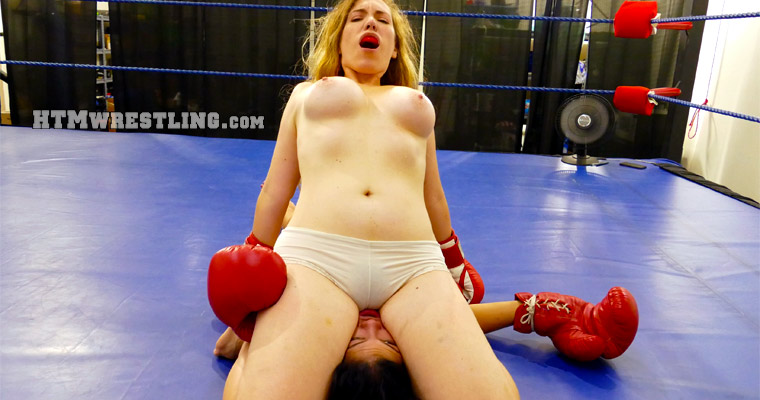 -
Custom video: Fantasy foxy boxing with facesitting humiliation! In 1920 x 1080HD MP4
Spoilers: Kim Chi wins!
Screenshot Gallery