The intensity is ramped up even further as the fight between Dynamite Denise and Irene Silver continues in to the 3rd and 4th rounds. Small and feisty Denise has to pretty much JUMP to score punches to Irene's face! Irene then drops a bomb, and Denise, from her own jumping overhand right Superman punch. Rules take a bit of a backseat here, as Irene begins a ground and pound on the downed Denise. Has the Dynamite fizzled? Hell no! Denise is back up and bouncing Irene's skull around like a bobblehead with repeated head snapping jabs and jumping hooks, sending the dizzied Irene crumbling to the canvas, where she is saved by the bell. These two ladies barely even rest for 15 seconds between rounds and then are back at it again.
Denise takes control right away, Irene stumbling from corner to corner, and Denise working her body over with repeated punches to the belly. But a huge haymaker swings the momentum back in Irene's favor, sending Denise careening to the canvas. Now it's Irene's turn once again to lay a beatdown on Denise pummeling her in the opposite corner, capping it off with a HUGE neck snapping uppercut that sends Denise crashing to her knees. Irene smugly walks around her downed opponent, and gets caught off guard when Denise rises again with a wide haymaker, nailing Irene's chin and taking control once again. Denise continues to dominate, with more head snapping punching, gut busting belly punching, and knocking Irene down. But before Denise can secure the win, the wobbly Irene begins to fight back with surgical precision strikes, jab after jab, followed by two epic hooks that nearly put Denise's lights out, and puts her ass back on the canvas. That's the end of Round 4! Who wins? Next time, you choose!



or

Note that preview clips may have slightly offsynced audio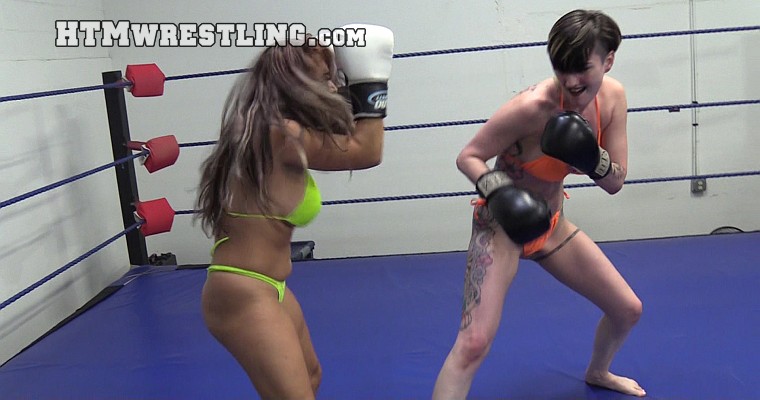 Fantasy foxy boxing. This clip was shot and directed by none other than Madison Swan!
- Screenshot Gallery -



or