Type: Mixed Wrestling
Length: 30 min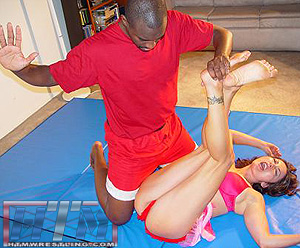 Santa is interviewing a new helper for the Christmas season. Santa remarks that she is late, and Jo is not going to be Santa's new assistant, she is going to be his new ho. Jo doesn't take to kindly to that and throws Santa on the ground to teach him a holiday lesson he will not soon forget, or is she the one who gets a Holiday full of pain? They put each other in various submission holds, and try to gain dominance. Jo throws punches, slaps and elbows on Santa, but Nick won't go down without a fight. Body splashes, sleepers, and arm bars are just some of the moves these two put on each other. One is finally put in a painful hold and is forced to submit the round, but who will win the battle??
Image Galleries
:
Spoiler: Winner = Jo finally kicks Santa's ass
Note: Problems with Clips4Sale/Videos4Sale orders must be taken up with them! More info.
Tags:
Darrius
---
Related Videos
---