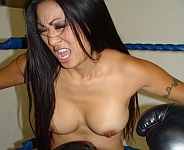 Nicole Oring Video Archive - Hit the Mat
Nicole Oring is one of the hottest and most popular ladies to grace our mats. Starring in over 60 boxing and wrestling videos at Hit the Mat, this Korean beauty is battle tested and ready to take on anyone. 니콜 오링

---
74 Videos With Nicole Oring - Pages offer free video previews!
Height: 5'3″
Born: 1977 in Seoul, South Korea
Nicole Oring Boxing Videos – Nicole Oring Wrestling Videos
Nicole Oring Mixed Wrestling – Nicole Oring Female Boxing
Sort by: Date (NEW-default) - Date (OLD) - Title (ASC) - Title (DESC) - Random (Surprise Me!)

Nicole Oring is a hot slim Asian fighter with a wide array of talents. From mixed boxing and boxing other women, mixed and female wrestling, to belly punching challenges…Nicole has done it all!

Nicole walks into the HTM studios ready for a hardcore match with the Masked Mauler. She mocks her opponent and quickly takes control of the match. Nicole thinks she has the fight won until she gets a taste of what the hardcore match is all about. The Masked Mauler gives as good as he gets!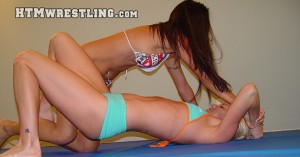 On Sale! Amanda, a sexy blonde, is pissed when Asian beauty Nicole Oring was able to represent HTM. Amanda thinks that she can easily take Nicole, and is out to do so. Nicole is pissed off at the blonde's claims and is ready to prove who is tougher.

These two lovely ladies do not like each other. Once they face each other, they're ready to kill! They strip out of their sexy wear into very skimpy outfits for another female wrestling catfight, to once again prove who is the dominant hottie.

The lovely Nicole is stretching out her sexy body in the mat room, when she's attacked from behind by Goldie! The busty Goldie has a bone to pick with her, and takes it out on poor Nicole's ass. This is a one-sided female wrestling beatdown.

It's a hot belly punching challenge when Mutiny and Nicole face off to see who has the tougher stomach for taking belly punches. This bare knuckle belly fight starts off friendly enough, but when the fists and trash talk start flying, it gets personal. Both girls sexy tummies get abused, but only one is left standing, while the other is laid out and gasping!

On Sale! Nicole vs Kat complete belly punching video. Nicole Oring and Kat test each others tummies to see who has the best abs, capable of taking the most belly punishment. Both girls' stomachs get redder as the rounds progress. These two slim sexy Asian girls have quite the slugfest! Female belly punching doesn't get any sexier than this.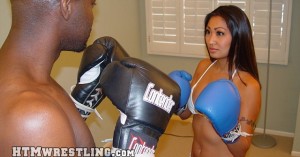 Darrius is ready to go toe to toe in mixed boxing with the sexy Nicole Oring. This boxing match is different from the others. No rounds, no ref, only a Knock Out will win. The fight starts off with Darrius having trouble making contact with the nimble and quick Nicole, but he comes back to deliver some serious belly punishment against Nicole's sexy stomach. Both fighters have taken a beating, but who will come out on top?



BUY NOW for $19.99

Busty Goldie Blair takes on the Asian hottie Nicole Oring. Both bikini-clad babes are ready to fight it out in a submissions women's wrestling match. Powerful crushing leg scissors, head locks, and breast smothers set the pace of the first half of this fight. Neither wants to submit, but only one woman can come out on top!

Nicole Oring is stretching out in the HTM mat room, when Helena walks in, with boxing gloves on, and wants to challenge Nicole to a boxer vs. wrestler match. Helena upset that Nicole bested her before using tickling and wants to fight Nicole again. These bikini clad babes have quite the tickling torture match!

Nicole Oring is a bit late to help build a ring with Darrius, so she decides to force an impromptu mixed wrestling match to see if she gets paid! Holds, stomps, kicks, belly punches...They beat the living hell out of each other, as Nicole seeks to get paid for her Labor of love.

Amanda and Nicole Oring have history with each other. Their previous catfights have found them both evenly matched. In this schoolgirl pins match, they are all business, determined to settle the score once and for all.
Status: Unknown

See more Nicole Oring videos