Industry boxing legend Christine Dupree stopped at Hit the Mat for some sparring with Darrius! Here is video of what was filmed.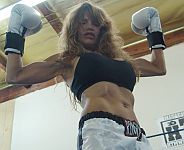 Watch more videos with Christine Dupree!
Rumor has it Christie Dupree is tuning up for a possible rematch with Courtney or a match with Rusty!
Legal note: Please do not re-host/re-upload this video anywhere else!