Part of our ongoing HTM classics remastering project, we present the highly requested 720p remaster of HTMC22/HTM107 "Topless Mixed Boxing Cali Logan vs Darrius". Now in 1280x720P HD with aspect ratio corrections.
Original description:
Cali Logan returns to Hit the Mat! Sporting Title Boxing trunks and small red Cleto Reyes Boxing Gloves. In preparation for another mixed boxing match with Darrius, Duncan offers to spar with Cali to test her skills. Cali Logan's boxing has improved since last time, and she easily knocks Duncan out! But is it enough to stop Darrius? Her top then comes off and Cali Logan is ready to box with Darrius, topless! Her lovely breasts bounce with each punch she gives and takes. The distraction does little to stop Darrius, and their boxing match is very even for most of the fight. No rounds, they box until someone gets knocked out. Both fighters take head snapping hooks and brutal belly blows, but Cali Logan will not go down easily. She continues to wear down Darrius until one punch puts his lights out for good! Cali gloats and poses over her defeated opponent, looking great while topless. A real dream match, and it seems for Cali Logan, that's exactly what it was!




or

Note that preview clips may have slightly offsynced audio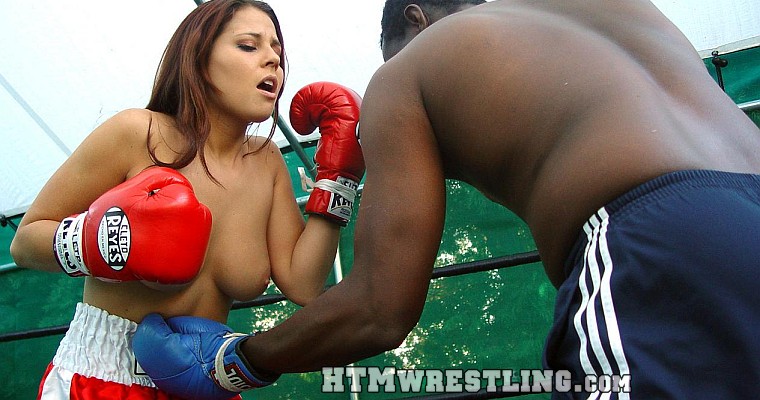 One of our all-time top sellers, now in 720P!
Fantasy mixed boxing, back and forth mixed fight action.
- Screenshot Gallery -



or