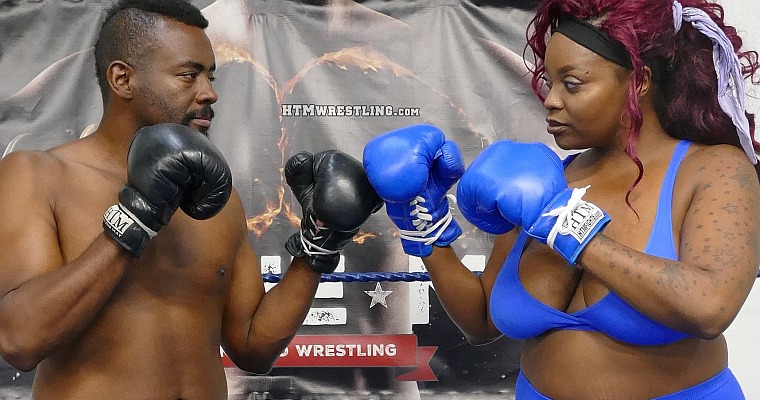 Stella Danny is back for a mixed boxing rematch against Darrius. One of the few women that can stand eye to eye with Darrius, the tall Glamazon wants some payback and she has the power to make it happen. Or does she? Darrius starts off strong, knocking Stella down early, and it looks like we might see a replay of their previous fight. But just like it doesn't take long for Stella's massive mammaries to get knocked out of her top, it doesn't take long for Stella's strength to wear down Darrius and take complete control of the match.
Stella takes her time breaking Darrius down, warming up his ribs with hard smacking body shots, and knocking his head around back and forth like a ping pong ball. Round after round Darrius gets beaten down, with a few giant breast smothers in between for good measure. It's a complete and utter humiliating defeat for Darrius, as Stella Danny knocks him out and does a victory pose over his near-lifeless beaten body.
- Boxing Screenshot Gallery -


Fantasy femdom boxing in 1920x1080HD MP4



Note that preview clips may have slightly offsynced audio


Tags: Darrius, Femdom, Stella Danny, Topless

Please note! Prices listed here are BEFORE any applicable local taxes are applied.

---
Related Videos
---