Gia Love returns for a fantasy boxing slugfest vs Darrius!
We start mid-match, and Gia Love is taking a beating from Darrius. Gia is getting rocked with her back against the ropes, being pummeled about the belly and face, and a few breast shots! Gia Love hits the mat, but is saved by the bell. Once back in her corner, we see Gia applying a strange substance to her glove? The next round begins with Gia Love counter punching Darrius's body, and moving to work him over in her corner. Once she has him cornered, she presses the glove with the mysterious substance applied to his face, and Darrius is noticeably weakened almost immediately. She continues to pummel the weak and dazed Darrius around the ring, knocking him down several times, until the uppercut puts his lights out for the KO. Your winner, Gia Love!
A short time later, Darrius confronts Gia by the lockers, accusing her of cheating. They head back in the ring for an immediate rematch, or as Gia puts it "A second ass whuppin". Gia starts off topless this time because reasons, but apparently that helps motivate Darrius to start off strong. Gia Love is immediately beaten back in to the corner, her belly, face and breasts rocked by his revitalized punches. Gia Love fires back, but Darrius parries her shots. He gives her free shots to the body, but after realizing that's a bad idea, ties Gia up in a clinch and starts to work her body and large breasts. Gia is clearly not doing as well this time around!
At the start of Round 2, Gia is in her corner looking for…something. Unable to find it, the bell sounds and Gia is once again taking a beating. But Darrius swings a little too wide, and using the ropes for added leverage, Gia swings back with a wild haymaker that connects hard. Now Gia is in control and pummeling Darrius, and scores a big knockdown. Darrius gets back up and takes control once again, and this time Gia Love is sent to the mat with a low blow! Darrius, still salty about his previous loss, mounts on top of Gia and hits her HARD while she is down. The rest of this round is a back and forth brawl with both fighters taking a beating.
Round 3 sees Gia spin a dazed Darrius around right at the bell, cracking him before he's prepared. Darrius must once again clinch to stop the punishment, and turns things around putting Gia in the corner, using her belly and breasts for his punching bags. This round sees Gia Love get worked over in one-sided fashion, knocked around the ring, dominated and defeated, a big right hook putting her lights out for the final KO. Darrius then strips the knocked out Gia Love of her boxing trunks, and we pan over the KO'd and defeated Gia Love.




or

Note that preview clips may have slightly offsynced audio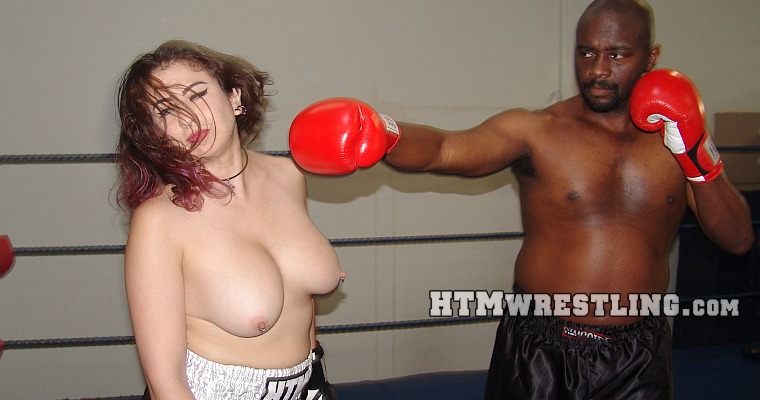 Fantasy mixed boxing action!
- Screenshot Gallery -



or